The value of home loans settled by brokers has decreased for the first time since the April-September 2019 period, according to new data released by the MFAA.
The MFAA Industry Intelligence Service 16th Edition report shows that between October 2022 and March 2023, the broker channel settled $161.79 billion in residential home loans, equating to a 8.63% decrease year-on-year.
However, MFAA CEO Anja Pannek (pictured above) said that despite this fall, the broker channel outperformed the overall home loan lending market.
"It was not unexpected to see a decline in values settled due to property market conditions,"  Pannek said. "We looked deeper to understand how the broker channel was performing versus the total home loan market." 
"Our further analysis shows that whilst the value of home loans settled by brokers declined 8.63% for the period, the lending market as a whole – broker and proprietary channels – declined 10.89% over the same period.
"This highlights that the broker market is meeting more needs of more consumers in a challenging economic environment."
The MFAA IIS report draws on data supplied by 11 of the industry's leading aggregators to provide broker and industry performance and demographic data. They include AFG, Connective, Choice, FAST, Finsure, Lendi Group, Loan Market, Mortgage Choice, nMB, PLAN Australia, and Vow Financial;.
Pannek said the report reinforced feedback from members on the impact interest rate rises and record levels of refinancing were having on brokers and their clients.
"The period covered in the report coincided with a period of intense refinancing as fixed rate mortgages reverted to variable, clients encountered serviceability constraints and a moderation of property prices in some markets," said Pannek.
 "This confluence of factors can be seen in this industry research; however, the outstanding service mortgage brokers deliver to their clients has remained a constant throughout this time."
Industry performance: Broker market share and remuneration down
The latest MFAA IIS report showed mortgage brokers maintained a strong market share, writing 69.6% of all residential home loans in the March 2023 quarter. In the year to March 2023, mortgage brokers also settled a record $358.68 billion in home loans.
However, it's important to keep in mind that this data lags by six months. 
The latest data released in September showed these metrics were both declining in the following April-June quarter. Residential home loan market share for brokers was 67.2% in the June quarter.
Other metrics had also seen a fall, with the average value of new home loans settled per broker recorded a decrease of $1,211,961 or 12.72% when compared year-on-year.
The total number of home loan applications lodged also declined for the third consecutive six-month period.
Over 343,000 home loan applications were lodged during the October 2022 – March 2023 period, a 13.12% decline when compared year-on-year and a 10.20% decline compared to the previous six-month period.
At an individual mortgage broker level, the average number of applications lodged per broker (including inactive brokers) declined to 17.7 from 19.9 in the previous six-month period.
This varied significantly across the country, as shown in the graph below.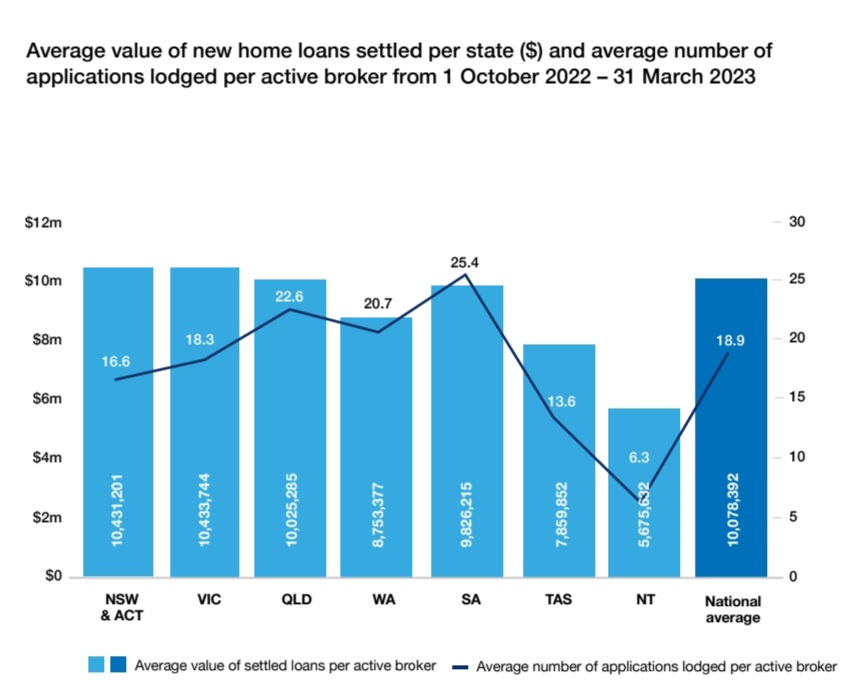 Following five consecutive periods of an increase in the conversion rate of applications to settlement, the measure decreased by one percentage point year-on-year (83.3%), and 4.1 percentage points period-on-period.
The conversion rate is calculated based on the number of home loans settled as a proportion of the number of home loan applications lodged.
The MFAA report said conversion rates need to be interpreted with caution as some aggregators may count conditional approvals rather than applications.
However, this is well above the pre-Royal Commission figures of high 60s and low 70s.
Nationally, the average total broker remuneration, prior to costs, is down to $181,199. This figure includes an average of $108,103 in up-front commissions and $73,096 in average trail commissions.
Year-on-year, it has reduced 7.33% for the current period from a peak of $195,534 in October 2021 – March 2022. Period-on-period, this result represents a similar decline, with a decrease of 7.25%, or $14,157.
Broker demographics: Female representation and broker numbers up
In better news, the latest report showed that the proportion of female brokers has increased for the first time in 18 months, up 1.5 percentage points to 26.9% compared to the previous six months and 1.4 percentage points compared to the previous year.
The last time the proportion of female brokers was at this level was in the October 2019 – March 2020 period.
However, while the total broker population continues to grow period-on-period, the number of female brokers in the industry has seen a decline.
Period-on-period, female brokers in the industry was down by 150, or 4.47%, year-on-year, the number of female brokers decreased by 104, or 3.14%.
"It's really pleasing to see an increase in the proportion of female brokers in the industry, however progress still remains slow. An industry that is welcoming and supportive of people from all walks of life is a goal we need to strive for and keep as a focus," said Pannek.
"At the MFAA we will continue to work with industry to implement strategies that drive an industry that is diverse, equitable and inclusive."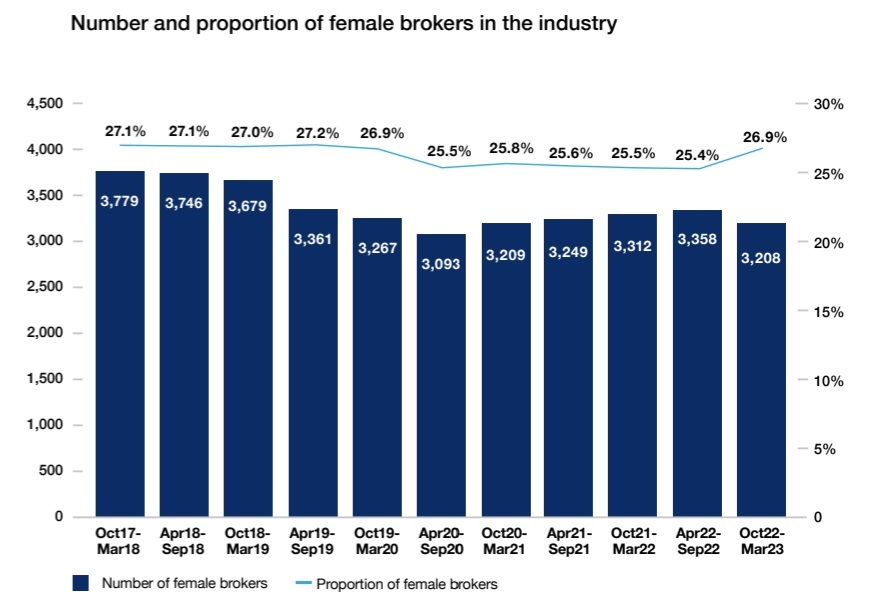 The total number of brokers remained above 19,000 for the second consecutive six-month period, reaching 19,456. This was an increase of 220 brokers period-on-period, and 871 year-on-year.
When comparing broker population changes to settled value changes, year-on-year broker numbers at a national level increased by 4.7%, whilst overall new loan settlements decreased by 8.6%.
While the total numbers are up, 3,405 brokers did not settle a home loan during the October 2022 – March 2023 period – equating to 22% of the broker population.
"This is a significant increase from last year when there were 2,062 inactive brokers or 14% of the broker population," the report said.
What do you think of the latest broker data? Share your thoughts in the comments below.