The Las Vegas housing market entered into 2022 firing on all cylinders. Even as uncertainty continues to spread in the wake of the Coronavirus, the median home value in Las Vegas tests new highs each month. Perhaps even more importantly, activity remains intact thanks to pent-up demand, lower interest rates, and savings accounts that were padded with government stimuli and more than two years of being locked indoors. It is worth noting, however, that demand is greatly outpacing supply in the Las Vegas real estate market. Several months behind on inventory, local prices will continue to appreciate for the foreseeable future. As a result, local real estate investors have shifted their exit strategies from short-term flips to long-term holds that can take advantage of new market indicators.
Las Vegas Real Estate Market 2022 Overview
Median Home Value: $447,597

Median List Price: $511,667

1-Year Appreciation Rate: +26.3%

Median Home Value (1-Year Forecast): +3.9%

Weeks Of Supply: 22.0 (+13.6 year over year)

New Listings: 1,002.3 (-13.7% year over year)

Active Listings: 12,104 (+57.2% year over year)

Homes Sold: 563.3 (-38.7% year over year)

Median Days On Market: 33.5 (+14.8 year over year)

Median Rent (1 & 2 Bedroom Units): $1,583 (+3.4% year over year)

Price-To-Rent Ratio: 23.56

Unemployment Rate: 5.6% (latest estimate by the Bureau Of Labor Statistics)

Population: 646,790 (latest estimate by the U.S. Census Bureau)

Median Household Income: $58,377 (latest estimate by the U.S. Census Bureau)

Total Active Foreclosures: 1,824
---
[ Thinking about investing in real estate? Register to attend a FREE online real estate class and learn how to get started investing in real estate. ]
---
Las Vegas Housing Market Trends 2022
Today's Las Vegas housing market trends are directly correlated to macroeconomic conditions. At the very least, years of government stimuli, geopolitical tensions in Europe, pent-up demand in the housing sector, higher interest rates, historic appreciation and the growing possibility of an impending recession have all culminated in a unique Las Vegas real estate market. As the local economy braces for what is likely an economic slowdown, new trends are starting to take shape. Let's take a look at what real estate investors in Las Vegas can expect over the next year:
Supply Trends: Inventory in the Las Vegas real estate market has been tight for the better part of a decade, and the end of 2022 is no exception. With somewhere in the neighborhood of 12,104 active listings, Las Vegas has about five months of inventory; that means if the current sales pace continues, inventory would last 22 weeks. While inventory levels are higher in the Las Vegas housing market than many of its counterparts, inventory is still lacking. More listings are being brought to the market, but levels are still insufficient, which will likely contribute to further appreciation.

Home Price Trends: The Las Vegas housing market has seen its prices increase for ten consecutive years. The fastest rate of appreciation in that time came in the wake of the pandemic. COVID-19 simultaneously increased demand and decreased inventory, which ultimately resulted in a sellers market. With more competition fighting over every listing, prices increased at an historic pace. Moving forward, prices will continue to increase, albeit at a slower pace. Higher interest rates and a slowing economy will almost certainly reduce mortgage applications and competition.

Interest Rate Trends: Interest rates have done nothing but increase over the course of 2022. Ever since the Fed announced it would need to increase interest rates to combat inflation, borrowing costs have nearly doubled. Today, the average commitment rate on a 30-year fixed-rate mortgage is about 5.89%, up 3.01 points year-to-date. The increase has slowed mortgage applications and may contribute to slower rates of appreciation in the future.

Investor Trends: The Las Vegas housing market has seen prices appreciate upwards of 26.3% over the last 12 months. As a result, profit margins on rehabs are growing more slim with each passing day. Despite the increases, however, foreclosures still offer plenty of opportunities to rehab real estate in Las Vegas. Additionally, rates are still relatively low. While up year-over-year, borrowing costs will help many Las Vegas real estate investors acquire rental properties and increase cash flow.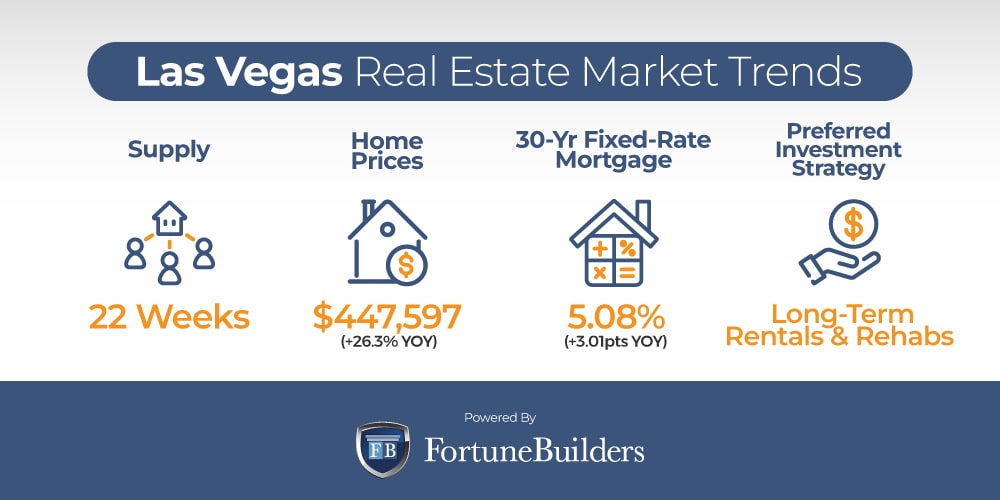 Las Vegas Foreclosure Statistics 2022
According to ATTOM Data Solutions' latest Foreclosure Market Report, "there were a total of 34,501 U.S. properties with foreclosure filings — default notices, scheduled auctions or bank repossessions — up 14 percent from a month ago and up 118 percent from a year ago."
In August, lenders across the country started the foreclosure process on 23,952 U.S. properties, up 12% from last month and 187% from this time last year.
"Two years after the onset of the COVID-19 pandemic, and after massive government intervention and mortgage industry efforts to prevent defaults, foreclosure starts have almost returned to 2019 levels," said Rick Sharga, executive vice president of market intelligence at ATTOM. "August foreclosure starts were at 86 percent of the number of foreclosure starts in August 2019, but it's important to remember that even then, foreclosure activity was relatively low compared to historical averages."
For some perspective, the Nevada real estate market contributed its fair share of foreclosures to the national trends. As recently as July, Nevada had the fourth highest foreclosure rate among all states, with one in every 2,609 homes going into foreclosure.
Foreclosures are up in Nevada, and the Las Vegas real estate market is no exception. That said, Las Vegas has about 1,824 foreclosures, according to RealtyTrac. Most of the city's foreclosures are either at risk of falling into foreclosure or are expected to be sold at auction. As a result, Las Vegas real estate investors looking to acquire a deal below market value may have the best chance of doing so browsing records at the local courthouse or attending an auction.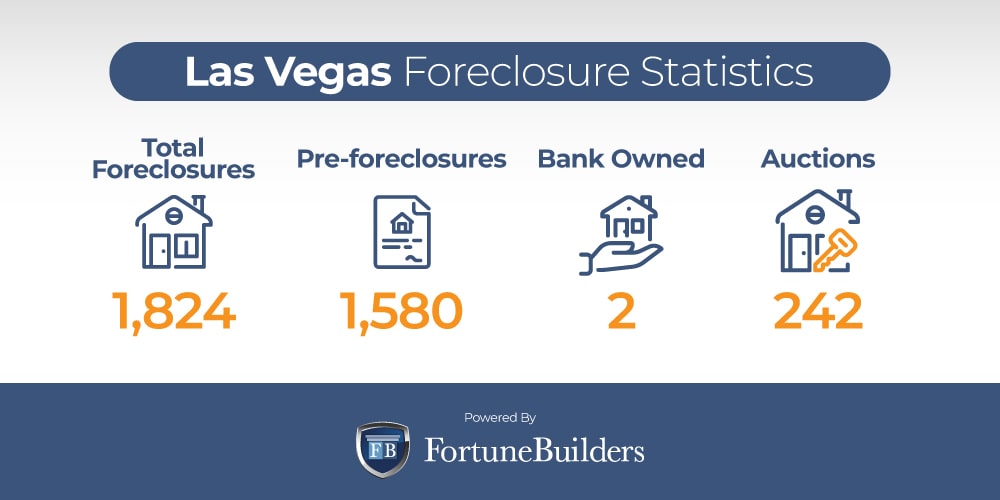 Las Vegas Median Home Prices 2022
The median home value in Las Vegas had increased every year since 2012 when the country was first starting to remove itself from the depths of the last recession. The presence of the Coronavirus threatened to interrupt the long-running trend, but the threat was short-lived, and prices continued to march higher.
At $447,597, the median home value in Las Vegas is historically high. No more than ten years ago (September 2012), the city's median home value was approximately $132,000. In that time (from September 2012 to September 2022), the median home value in Las Vegas appreciated by as much as 239.0%. Real estate in Las Vegas has appreciated much faster than the national average by drafting off a strengthening economy, increased consumer sentiment, relatively low interest rates, more savings, and a lack of inventory.
Moving forward, the Las Vegas real estate market is expected to appreciate faster than the national average. With just over five months of inventory, competition will continue to drive prices upwards, to the tune of 3.9% over the next 12 months.
Should You Invest In The Las Vegas Real Estate Market?
Las Vegas real estate investing may have taken a step back when COVID-19 was first declared a global emergency, but the retraction was short-lived. The median home value declined only a few thousand dollars on the heels of fear and uncertainty before it started appreciating and never looked back. The moment the Fed announced it would lower interest rates to spur buying activity, prospective homeowners took the money they saved in quarantine and started shopping, so much so that competition has driven prices up ever since. In the last year alone, supply and demand constraints have increased local home values by as much as 26.3%.
Prices have increased so much, in fact, that Las Vegas real estate investors have found deals with attractive profit margins harder to come by. According to ATTOM Data Solutions' second-quarter 2022 U.S. Home Sales Report, "profit margins on median-priced single-family home and condo sales across the United States hit another new record of 55.5 percent following the largest quarterly gain in a decade."
"Home sellers in the second quarter continued to benefit from the rapid growth in home price appreciation the country has experienced over the past few years," said Sharga. "While price growth may slow down as higher mortgage rates dampen demand from prospective homebuyers, home sellers should continue to profit from the record $27 trillion in homeowner equity in today's market."
Simply put, homes have appreciated so much that great rehab deals are growing harder to find. That's not to say rehabbing isn't a viable exit strategy (it very much still is), but rather that other investing methods look more attractive under today's market conditions. Therefore, in addition to rehabbing, Las Vegas real estate investors need to prioritize the following exit strategies:
Those interested in the Las Vegas real estate investing industry should pay special consideration to building a rental portfolio. While acquisition costs are historically high at the moment, the cost of borrowing remains attractive. While mortgage rates are up year-to-date, they are still low enough to entice long-term investors in the Las Vegas housing market.
As of September, the average rate on a 30-year fixed-rate loan was 5.89%, according to Freddie Mac. Therefore, passive income investors have more incentive to use traditional financing to buy a home in Las Vegas sooner rather than later. Not only are borrowing costs attractive, but lower monthly mortgage obligations suggest landlords may increase cash flow from properties placed in operation. The less borrowers are expected to pay on their mortgage each month, the more they can pocket from renters. Several years of cash flow can easily warrant an acquisition at today's high prices.
Besides low mortgage rates and the city's cash flow potential, the Las Vegas housing market has a price-to-rent ratio that favors rental property owners. At 23.56, the price-to-rent ratio in the Las Vegas housing market suggests investors are currently the beneficiaries of good rental demand. Due, in large part, to the city's relatively high home prices, fewer people can afford to buy, which simultaneously drives up rental demand and the amount landlords can charge.
The stars are starting to align for rental property owners, which begs the question: Is Las Vegas good for real estate investing? Provided the cash flow warrants the acquisition cost, now may be a great time to invest in Las Vegas real estate. Not only may investors capitalize on cash flow, but there's a good chance they'll benefit from appreciation over the long run.
Summary
The Las Vegas housing market was the poster child of the rehab movement more than a decade ago. For better or for worse, foreclosures ran rampant in Las Vegas and investors cleaned up. Fast forward a decade later, the Las Vegas real estate market still has a high delinquency rate. As a result, local investors are able to practice two of today's most popular exit strategies: long-term rentals and rehabs. Both options are viable for local investors and should remain so for the foreseeable future.
---

Interested in learning more about today's most lucrative real estate strategies?

Whether you're brand new to investing, have closed a few deals, or are a seasoned investor— our new online real estate class reveals the best real estate strategies to get started with real estate investing in today's market. Expert investor Than Merrill explains how these time-tested strategies can help you to profit from the current opportunities in real estate.

Register for our FREE Real Estate Webinar and get started learning how to start a successful investment business today!
Sources
https://www.zillow.com/las-vegas-nv/home-values/
https://www.zillow.com/research/data/
https://www.freddiemac.com/pmms
https://www.redfin.com/news/data-center/
https://www.bls.gov/eag/eag.nv_lasvegas_msa.htm
https://www.census.gov/quickfacts/lasvegascitynevada
https://www.apartmentlist.com/research/category/data-rent-estimates
https://www.sofi.com/learn/content/foreclosure-rates-for-50-states/
https://www.attomdata.com/news/market-trends/foreclosures/attom-august-2022-u-s-foreclosure-market-report/
https://www.attomdata.com/news/market-trends/home-sales-prices/attom-q2-2022-u-s-home-sales-report/
https://www.realtytrac.com/homes/nv/clark/las-vegas/
*The information contained herein was pulled from third party sites. Although this information was found from sources believed to be reliable, FortuneBuilders Inc. makes no representations, warranties, or guarantees, either express or implied, as to whether the information presented is accurate, reliable, or current. Any reliance on this information is at your own risk. All information presented should be independently verified. FortuneBuilders Inc. assumes no liability for any damages whatsoever, including any direct, indirect, punitive, exemplary, incidental, special, or consequential damages arising out of or in any way connected with your use of the information presented.