The Charlotte housing market has managed to keep pace with the national market. Thanks, in large part, to an influx of new buyers seeking attractive job opportunities and relatively affordable prices, homes have become a commodity in just about every Charlotte neighborhood. With the added attention real estate in Charlotte has received over the last few years, home prices have appreciated at a historic pace.
It is worth noting, however, that recent changes to macroeconomic conditions have forced the Federal Reserve to increase interest rates to fight inflation. The latest rate increase has slowed activity in the Charlotte housing market, which begs the question: Is Charlotte a good place to invest?
The Charlotte real estate market was and is a great place to invest. If for nothing else, it is possible to invest in any real estate cycle; investors need to listen to what the market is telling them. In Charlotte, for example, appreciation has reduced profit margins on flips, but long-term rental properties remain a viable exit strategy.
Charlotte Real Estate Market 2022 Overview
Median Home Value: $402,643

Median List Price: $398,267

1-Year Appreciation Rate: +23.5%

Median Home Value (1-Year Forecast): +5.0%

Months Of Supply: 0.7 (-46.2% year over year)

Number Of Homes For Sale: 3,809 (+0.4% month over month)

Number Of Homes Sold: 1,003 (-9.7% year over year)

Homes Sold Under Asking Price: 41.6%

Days On Market: 14 (+13.8% month over month)

Median Rent (1 & 2 Bedroom Units: $1,475 (+11.2% year over year)

Price-To-Rent Ratio: 22.74

Unemployment Rate: 3.5% (latest estimate by the Bureau Of Labor Statistics)

Population: 879,709 (latest estimate by the U.S. Census Bureau)

Median Household Income: $65,359 (latest estimate by the U.S. Census Bureau)

Total Foreclosures: 810
---
[ Thinking about investing in real estate? Register to attend a FREE online real estate class and learn how to get started investing in real estate. ]
---
Charlotte Housing Market Trends 2022
Not unlike all of its primary city counterparts, the Charlotte housing market has kept in line with national trends. Most notably, the impact of the Coronavirus has altered the real estate landscape, and the way buyers, sellers, and investors approach it. With nearly two years of data to go off of and shifting macroeconomic indicators, trends are starting to reveal themselves. As a result, here are our own Charlotte housing market trends and forecasts projections for the foreseeable future:
Interest RateTrends: Interest rates are now north of six percent, jumping 3.16 points year over year. Since bottoming out during the pandemic, rates have more than doubled and are expected to continue higher. The increase in rates has simultaneously prevented sellers from selling and buyers from buying. Mortgage applications have declined, and sellers refuse to trade their current rates for today's. The resulting activity has tempered appreciation rates for now.

Home Price Trends: The median home value in Charlotte continues to test new highs each month, and the trend will look to continue throughout 2022. A lack of inventory, the threat of increasing interest rates, and pent-up demand will all drive more buyer activity. However, prices are becoming prohibitively expensive, which means there's only so much farther they can go. As a result, prices will continue to rise, but forecasts are calling for a modest 5.0% increase–down considerably from the previous 12 months.

Rental Rates Will Increase: Looming interest rate increases, active buyers, and fewer listings all contributed to a 23.5% increase in Charlotte's median home value last year. At the same time, rents only increased about 11.2%. It is safe to assume rental rates will increase at a faster pace throughout 2022. As more and more people cannot buy in a market with only 0.7 months of inventory, they will be relegated to the renters market. As more people are forced to rent, supply and demand will quickly favor landlords and enable them to increase prices accordingly.

More Investors Will Turn To Long-Term Strategies: As profit margins are eroded by increasing home values, and rental property indicators grow more attractive, more investors will look to become landlords in 2022. While acquisition costs will remain high, borrowing costs are still attractive, and investors can capitalize on higher rents to justify their purchases. More importantly, however, the added demand will decrease landlords' greatest threat: vacancies.
Charlotte Real Estate Market Forecasts 2022 – 2023
The latest Charlotte real estate trends are directly correlated to changes in the macroeconomic environment. Consequently, it's safe to assume Charlotte's real estate market forecasts will play off of how the Federal Reserve responds to the latest trends. Most notably, the Fed will look to combat inflation. In doing so, the following forecasts are most likely to come to fruition:
Appreciation Will Slow: The Federal Reserve just announced another rate hike, which will increase both mortgage rates and the cost of homeownership. However, in doing so, competition will most likely subside. Many buyers remain ready and willing to purchase a home, but fewer are actively participating in the market. While lower, competition will continue to drive prices up because there are too few homes on the market. In the Charlotte housing market, homes may appreciate as much as 5.0% over the next 12 months, which is a much slower pace than residents have grown accustomed to.

Rents Will Increase: Rents in Charlotte have increased north of eleven percent over the last year because many buyers were priced out of the market by higher home values. As fewer buyers were able to complete a purchase, more people were forced to continue renting. Moving forward, more inventory is expected to hit the market, but not enough to keep competition out of the rental market. As a result, rental rates will increase, albeit at a slower pace than in the last year.

Interest Rates Will Increase: Interest rate trends in the Charlotte real estate market will continue their upwards trajectory. Up 3.16 basis points year over year, mortgage rates will continue to increase as long as the Fed is fighting inflation. It is too soon to tell how high rates will go, but increases are on the horizon. As a result, the cost of homeownership will increase in the Charlotte real estate market.
Charlotte Foreclosure Statistics 2022
Foreclosure filings have started to ramp up. If for nothing else, banks and lenders weren't allowed to foreclose on distressed owners because of government-initiated moratoriums for the better part of two years. It wasn't till the end of last year that government assistance started to end, which explains the latest increase.
According to ATTOM Data Solutions' latest Foreclosure Market Report, there were "a total of 34,501 U.S. properties with foreclosure filings — default notices, scheduled auctions or bank repossessions — up 14 percent from a month ago and up 118 percent from a year ago." As recently as August, a total of 23,952 properties entered into the foreclosure process; that number was up 12% from July and up 187% from the previous year.
"Two years after the onset of the COVID-19 pandemic, and after massive government intervention and mortgage industry efforts to prevent defaults, foreclosure starts have almost returned to 2019 levels," said Rick Sharga, executive vice president of market intelligence at ATTOM. "August foreclosure starts were at 86 percent of the number of foreclosure starts in August 2019, but it's important to remember that even then, foreclosure activity was relatively low compared to historical averages."
Foreclosures are on the rise across the country, and the Charlotte housing market is no exception. Today, there are a total of 810 foreclosures in Charlotte. Pre-foreclosure properties, or those that are merely at risk of falling into foreclosure, make up 701 of the city's total foreclosures. The remaining 109 foreclosures are set to be placed up for auction. Therefore, Charlotte real estate investors looking to capitalize on foreclosures will have the best luck contacting distressed homeowners.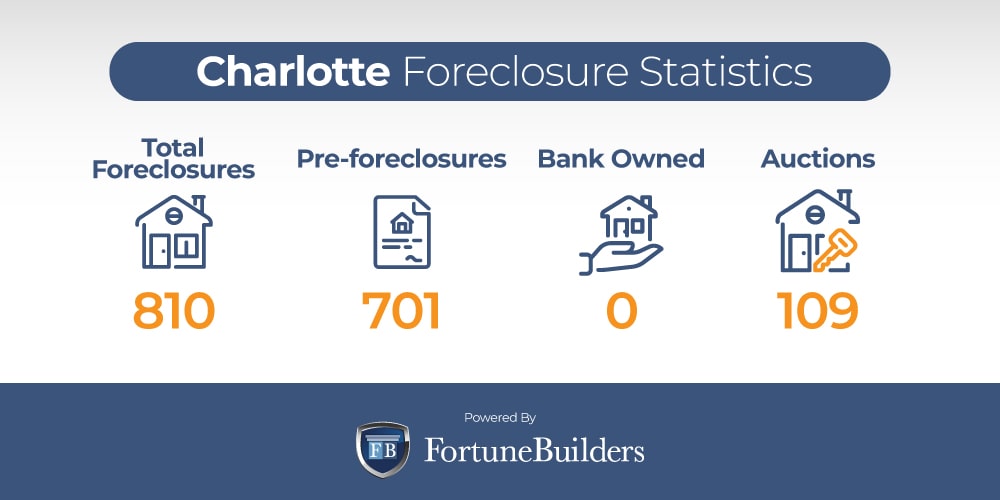 Charlotte Median Home Prices 2022
The median home value in the Charlotte real estate market is $402,643. However, it is worth noting that appreciation in Charlotte has been consistent and regular. In the last year, the median home value increased by 23.5%. The median home value across the United States, on the other hand, saw median home values increase approximately 16.5% over the same period.
Prices have appreciated almost exponentially in the Charlotte housing market, which begs the question: Is Charlotte a good place to invest? To be clear, it is possible to invest in a market as hot as Charlotte, even with prices where they are. Again, the pandemic has created pent-up demand. Combined with just 0.7 months of supply, that suggests competition alone will increase home values until more listings can be brought to market. In fact, forecasts call for a median increase of somewhere in the neighborhood of 5.0% over the next 12 months.
The city's rapid rate of appreciation may be due largely to its propensity towards population growth. Charlotte is one of the country's fastest-growing metros, adding upwards of 100,000 people every year. "With a projected 23.7% increase in population from 2014-2025, the area will soon hold a total of 2.8 million people," according to HomeUnion, Inc. The area's low cost of living and increasing job opportunities give more and more people each year a reason to call the Charlotte housing market home, which bodes incredibly well for the Charlotte real estate investing community.
Sellers currently maintain leverage over buyers and prices have appreciated a lot in a relatively short period of time. However, despite recent increases, it appears as if there is still room for appreciation on the horizon. Therefore, investors who acquire real estate today may be able to expect at least some appreciation.
Charlotte Real Estate Market Investing In 2022
Average U.S. home seller profits are higher than they have been in recent history, and real estate in Charlotte is no exception. Following years of historical appreciation, homes are selling for more than they have in years past, which bodes well for the Charlotte real estate market.
Is it a good time to buy a house in Charlotte? The answer will depend on what you hope to do with the newly acquired asset. The Charlotte real estate investing community, for example, has two indicators working in its favor: demand and relative affordability. With a median home value of $402,643, the Charlotte real estate market is slightly higher than the national average. However, forward-looking indicators suggest real estate in Charlotte has a lot of room to grow. Therefore, today's high prices may actually represent a bargain relative to future valuations when put in context.
The increase is due to factors onset by the Coronavirus, which begs the question: Is Charlotte a good place to invest in real estate? At the very least, one scenario is most likely to play out more than any other: Investors who get in now may benefit from appreciation and increase demand for their final products. As a result, today's investors are turning to their rental property portfolios.
Any of today's most popular exit strategies serve as a viable investment strategy for real estate investors. However, one stands out above the rest: rental properties. With prices higher than they have been in quite a long time, profit margins are slim. That's not to say flipping and wholesaling can't be done, but rather that the current real estate environment appears to favor long-term investment strategies.
While acquisition costs are up, investors have the ability to offset today's high prices with years of cash flow by renting out their assets. In as little as a few years, investors may be able to justify today's higher purchase with substantial rental income. Not only that, but landlords will be able to pay down mortgages with other people's money.
Perhaps even more importantly, borrowing money is still affordable. While doubling over the course of 2022, mortgage rates are still relatively affordable. As recently as September, interest rates were 6.02%, according to Freddie Mac. Borrowing costs can simultaneously justify buying at today's higher prices and increase monthly cash flow from properties placed in operation. The less landlords have to pay for a monthly mortgage, the more they can pocket with each rent check they collect.
If that weren't enough, the city's lack of available housing would increase rental demand. While more people are ready and willing to buy in the Charlotte real estate market, there are only 0.7 months of inventory. Healthy markets typically have about seven months of inventory, which leaves real estate in Charlotte severely lacking. As a result, even those who want to buy will be forced to rent, turning prospective buyers into renters. Until more inventory is brought to the market, landlords will rest assured their properties have demand.
The benefits of investing in the Charlotte real estate market are in no way limited to those mentioned above. In fact, there are several more reasons someone should consider investing in the Charlotte real estate market:
Job Growth
A strong job market suggests investors will have more capable buyers and renters to cater to, making the prospects of investing all the more attractive. That said, the Charlotte housing market is particularly strong because of local job growth. According to BestPlaces, "Charlotte has seen the job market increase by 2.7% over the last year. Future job growth over the next ten years is predicted to be 45.2%, which is higher than the US average of 33.5%."
The largest increase was seen in the Leisure and Hospitality Sector, as the reopening of the economy is imminent (if it hasn't already happened). It wasn't only the Leisure and Hospitality Sector that saw growth, however; every sector experienced some level of growth, except for Manufacturing.
The encouraging job growth has also gone a long way in improving local unemployment. Charlotte's unemployment rate is also faring better than the national average, 3.5% and 3.7%, respectively.
Quality Of Life
The Charlotte housing market boasts a high quality of life, which adds to the idea that more people will want to call it home. In fact, U.S. News ranks Charlotte number 20 on the "Best Places To Live" in the country list. The resulting demand will ultimately work in investors' favor.
However, it should be noted that the Charlotte housing market is starting to host a younger demographic. At 26.4%, people under 20 make up the largest distribution of people living in the area. The distribution of people under 20 may be due, largely, to the growing number of job opportunities. "The city has a strong economic identity – it's the second-largest banking hub in the U.S. behind New York City – that's helped drive consistent population growth for decades," according to U.S. News.
In all, Charlotte's quality of life has resulted in a positive net migration of industry-minded individuals. Those investing in and around Charlotte should take note of the age distribution and cater to the needs of younger buyers and renters.
Charlotte Is Landlord Friendly
More and more investors in Charlotte are turning towards long-term rental strategies because higher home values are eroding the profit margins on flips and recaps. Additionally, lower borrowing costs and increased demand are starting to make the underlying fundamentals on rental properties even more attractive. If that wasn't enough, however, the Charlotte housing market is considered landlord-friendly.
Growing Student Rental Market
As the largest city in North Carolina, Charlotte is home to several large universities: The University of North Carolina (Charlotte campus), Queens University of Charlotte, Davidson College and Johnson C. Smith University. In all, there are close to two dozen universities in and around the Charlotte real estate market. The number of universities explains the city's younger demographic, and the growing student rental market is something investors need to pay special considerations to.
Summary
The Charlotte housing market has weathered the COVID-19 storm and appears to have come out on the other end even stronger. Demand remains persistent in the face of constant appreciation, and yet the city's relative affordability looks like it will continue to attract more buyers. That's not to say inventory shortages won't remain a concern over the course of 2022, but rather that Charlotte's underlying fundamentals appear stronger than most markets. As a result, local investors will look to continue their careers with confidence and excitement.
---

Interested in learning more about today's most lucrative real estate strategies?

Whether you're brand new to investing, have closed a few deals, or are a seasoned investor— our new online real estate class reveals the best real estate strategies to get started with real estate investing in today's market. Expert investor Than Merrill explains how these time-tested strategies can help you to profit from the current opportunities in real estate.

Register for our FREE Real Estate Webinar and get started learning how to start a successful investment business today!
Sources
https://www.zillow.com/charlotte-nc/home-values/
https://www.zillow.com/home-values/
https://www.zillow.com/research/data/
https://www.rockethomes.com/real-estate-trends/nc/charlotte
https://www.bestplaces.net/economy/city/north_carolina/charlotte
https://www.freddiemac.com/pmms/pmms30.html
https://apps.carolinarealtors.com/files/Charlotte-Region_LMU_2021-11.pdf
https://www.bls.gov/regions/southeast/nc_charlotte_msa.htm
https://www.bls.gov/regions/southeast/summary/blssummary_charlotte.pdf
https://realestate.usnews.com/places/north-carolina/charlotte
https://www.census.gov/quickfacts/fact/table/charlottecitynorthcarolina/POP060210
https://data.bls.gov/timeseries/LAUMT371674000000003?amp%253bdata_tool=XGtable&output_view=data&include_graphs=true
https://www.realtytrac.com/homes/nc/mecklenburg/charlotte/
https://www.attomdata.com/news/market-trends/home-sales-prices/attom-data-solutions-2021-rental-affordability-report/
https://www.attomdata.com/news/market-trends/foreclosures/attom-august-2022-u-s-foreclosure-market-report/
*The information contained herein was pulled from third party sites. Although this information was found from sources believed to be reliable, FortuneBuilders Inc. makes no representations, warranties, or guarantees, either expressed or implied, as to whether the information presented is accurate, reliable, or current. Any reliance on this information is at your own risk. All information presented should be independently verified. FortuneBuilders Inc. assumes no liability for any damages whatsoever, including any direct, indirect, punitive, exemplary, incidental, special, or consequential damages arising out of or in any way connected with your use of the information presented.