The Seattle housing market was at the forefront of the national real estate sector for the better part of a decade. However, historical appreciation rates and higher mortgage rates have resulted in less activity on behalf of buyers. With fewer buyers participating in the market, sellers are losing their stranglehold over the sector, and prices are starting to come down. Home values in the Seattle housing market have been on the decline since the second quarter of this year. That said, the latest bout of depreciation is less of an indictment on the local real estate market and more of a return to normalcy. Prices have run too high, and the latest action by the Federal Reserve appears to be working. The Seattle real estate market seems to have reached a tipping point, which may spell great news for anyone looking to buy a house.
Seattle Real Estate Market 2022 Overview
Median Home Value: $935,925

Median List Price: $726,332 (+14.7% year over year)

1-Year Appreciation Rate: +7.9%

Median Home Value (1-Year Forecast): +0.6%

Weeks Of Supply: 9.0 (+5.0 year over year)

New Listings: 940 (-25.0% year over year)

Active Listings: 7,126 (+48.8% year over year)

Homes Sold: 830 (-32.0% year over year)

Median Days On Market: 19.7 (+13.5 year over year)

Median Rent (1 & 2 Bedroom Units): $1,857 (+6.1% year over year)

Unemployment Rate: 3.1% (latest estimate by the Bureau Of Labor Statistics)

Population: 737,015 (latest estimate by the U.S. Census Bureau)

Median Household Income: $97,185 (latest estimate by the U.S. Census Bureau)

Total Active Foreclosures: 69
---
[ Thinking about investing in real estate? Register to attend a FREE online real estate class and learn how to get started investing in real estate. ]
---
Seattle Real Estate Market Trends 2022
Today's Seattle real estate market trends are largely the result of the pandemic and the Fed's decisions to get the economy back on track. In particular, years of government stimuli and historic appreciation have taken the local housing sector places many could have seen coming. The change in dynamics has resulted in the following Seattle housing market trends:
Supply Trends: With approximately 7,126 active listings in the Seattle housing market, the Emerald City has a little more than two months of inventory if sales continue at their current pace. Supply is slightly down quarter over quarter, but rising home values and mortgage rates are expected to push inventory levels higher. As inventory levels increase, home prices are expected to drop, albeit slightly. As competition over each listing subsides, sellers lose their power int he makes and are typically forced to drop asking prices.

Home Price Trends: Home price trends in the Seattle real estate market have diverged from national trends. While home values across the country are steadily rising, real estate in Seattle has been on the decline since the second quarter. The difference may suggest Seattle is slightly ahead of the curve and prices peaked earlier than most other cities. If for nothing else, Seattle home values ran too hot for far too long. As a result, they were more prone to a pullback, not unlike what we are seeing now.

Interest Rate Trends: Mortgage rates have more than doubled year over year. Today, the average commitment rate on a 30-year fixed-rate mortgage is somewhere in the neighborhood of 6.92%. As recently as the fourth quarter of last year, rates were as low as 2.98%. The increase is the result of the Fed's attempt to fight inflation and will most likely continue to inch higher throughout the year.

Investor Trends: Over the last few years, low borrowing costs and high home prices have pushed the Seattle real estate investing community towards long-term rental properties. Borrowing costs were able to help offset high acquisition costs and home prices reduced profit margins on quick flips. Low interest rates actually helped landlords increase monthly cash flow. Seattle real estate market trends will continue to lean in favor of landlords until prices are brought down.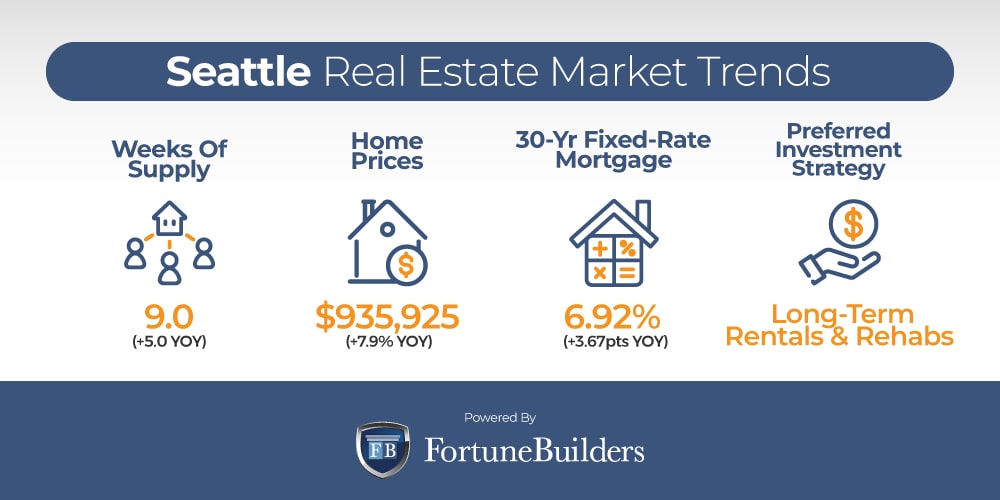 Seattle Foreclosure Statistics 2022
Foreclosures continue to increase in the wake of moratorium expirations and the looming threat of a recession. According to ATTOM Data Solutions' Q3 2022 U.S. Foreclosure Market Report, "there were a total of 92,634 U.S. properties with foreclosure filings — default notices, scheduled auctions or bank repossessions — up 3 percent from the previous quarter and 104 percent from a year ago."
Despite the latest increase, foreclosures have yet to reach their pre-pandemic levels. "Foreclosure starts, while rising since the end of the government's foreclosure moratorium, still lag behind pre-pandemic levels," said Rick Sharga, executive vice president of market intelligence for ATTOM. "Foreclosure activity is reflecting other aspects of the economy, as unemployment rates continue to be historically low, and mortgage delinquency rates are lower than they were before the COVID-19 outbreak."
Increases in the quarter can be seen in the Washington real estate market, not the least of which includes Seattle. That said, the state of Washington has fared pretty well with foreclosures, and the Seattle housing market is no exception. While foreclosures are up nationally, Seattle only has 69 foreclosures (60 auctions and nine pre-foreclosures). Seattle's foreclosure distribution remains on the low end of the spectrum, but it is expected to increase by the end of the year. It is too soon to tell how many foreclosures Seattle will see in the coming months, but the growing threat of a recession and inflation suggest more are on the horizon.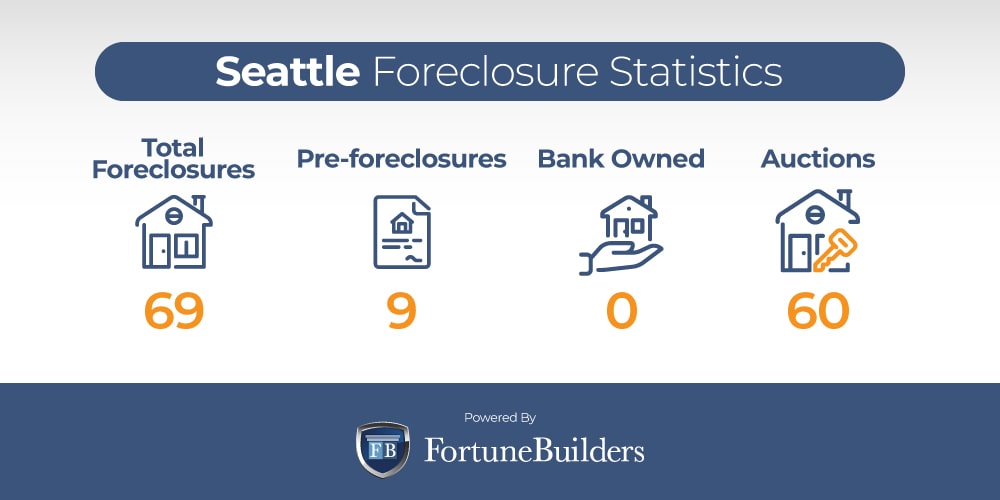 Seattle Median Home Prices 2022
Seattle's median home price has followed national trends over the last decade. Home prices in Seattle are up considerably since bottoming out during the Great Recession. However, a closer look at more recent trends will reveal Seattle's median home value is starting to trend down more than its national counterpart. While the median home value in the U.S. is up about 1.0% since the halfway point of 2022, the median home value in Seattle is down about 2.9%. As a result, the median home value in the Seattle housing market is now $934,925.
The divergence is most likely due to exorbitant costs in Seattle. It appears as if the Seattle real estate market may have peaked before the national housing market; homes simply got too expensive. As a result, activity slowed and sellers lost a great deal of the power they had grown accustomed to. Without the same amount of competition in years past, sellers couldn't ask for as much, and even forced to drop prices in many cases.
Moving forward, the shift in power should favor buyers—ever so slightly. As sellers lose their grip on the market, appreciation rates will temper. Over the next 12 months, in fact, local home values are only expected to appreciate as much as 0.6%. The median home value in the U.S., on the other hand, is expected to more than double Seattle's rate of appreciation.
Seattle Housing Market Forecast 2022
Based on what market indicators are suggesting, the most likely Seattle housing market forecast will look a lot like this:
Home Values Will Rise: Many Seattle housing market forecasts suspect home values have peaked in the current cycle. Down about 2.9% from the middle of this year, the sellers are clearly losing their power over the market. However, inventory remains tight enough to fuel competition. With just over two months of inventory, prices will continue to increase, but at a much slower pace than last year.

Rents Will Rise: The Seattle housing market only has about two months of inventory and housing prices are prohibitively expensive. Consequently, demand for rentals will increase over the course of 2022 and into next year. Rents have already increased 6.1% over the last year, and today's indicators suggest rents will increase at a faster pace over the next 12 months.

Interest Rates Will Rise: The latest Consumer Price Index report showed one of the largest increases in inflation the United States has seen since 1981. In order to combat inflation and weaken the dollar, the Fed is expected to increase interest rates even further. While the number of points interest rates will increase is still up for debate, it's only a matter of time until the move is made. As a result, the cost of owning a home in the Seattle real estate market will increasing accordingly.
Should You Invest In the Seattle Housing Market?
Is Seattle a good place to invest in real estate? Since few markets have appreciated faster than The Emerald City over the last 10 years, it is a fair question to ask. Seattle's median home value is well above the national average, making some exit strategies prohibitively expensive. Nonetheless, Seattle remains a great place to invest in real estate. Regardless of a market's current status, there's always a viable exit strategy investors may use, and the Seattle real estate market is no exception.
Homes have increased in value so much that the Seattle real estate investing community has changed the way it prefers to do business. In particular, there's a way to make today's high prices look a lot more attractive over the long run: building a rental property portfolio. In addition to the latest round of appreciation, several market indicators suggest investors may have better luck buying rental properties than flipping houses.
That's not to say rehabbing isn't capable of returning great profits, but rather that investors have a new avenue to explore in today's landscape. Three fundamentals have started to tilt the scales in favor of passive income investors:
At the very least, years of cash flow equivalent to Seattle's median rental rate can help justify today's higher acquisition costs. With a median rent price of $1,857, it is possible to simultaneously rent out an investment property and have someone else pay down the mortgage. That way, investors could build equity in a physical asset and collect cash flow each month with the right long-term investment.
As of October, the average commitment rate on a 30-year fixed-rate mortgage is about 6.92%, according to Freddie Mac. While more than doubling year to date, today's rates are still attractive. As a result, now is a great time to borrow money for a rental property. Prospective buyers will be able to offset today's high prices with years of lower monthly obligations. If for nothing else, lower mortgage payments mean Seattle real estate investors can pocket more of the rent they collect.
It is currently more affordable to buy a home than rent. While that may not sound optimal for buy-and-hold investors, a good investment can work in their favor. The city's price-to-rent ratio creates a healthy demand for rental properties, which—in turn—stirs up the competition. The amount of available inventory in Seattle, or lack thereof, will drive more people to rent.
With just over two months of supply, real estate in Settle remains unbalanced. A healthy, balanced market usually has upwards of six months of inventory. Even buyers who are financially capable of doing so can't get into a home; the competition is too high. Therefore, it is fair to assume more people will be forced to rent. In one fell swoop, landlords will find themselves with more demand and the ability to raise prices.
Investors are lucky to have several viable exit strategies at their disposal, but none appear more attractive than building a proper rental property portfolio in the wake of the pandemic. Too many important market indicators are pointing towards becoming a buy-and-hold investor to ignore.
Summary
The Emerald City, not unlike the rest of the country, has been dealing with a supply and demand issue for quite some time. More people than ever before are competing for relatively fewer homes, which would account for the record rate of appreciation in recent history. However, the Seattle housing market is starting to show signs that the sellers are losing power. Prices have declined since the second quarter and buyers are starting to gain traction for the first time in years. That's not to say prices will reign in completely, but rather that a whole new market is starting to take shape.
---

Interested in learning more about today's most lucrative real estate strategies?

Whether you're brand new to investing, have closed a few deals, or are a seasoned investor— our new online real estate class reveals the best real estate strategies to get started with real estate investing in today's market. Expert investor Than Merrill explains how these time-tested strategies can help you to profit from the current opportunities in real estate.

Register for our FREE Real Estate Webinar and get started learning how to start a successful investment business today!
Sources
https://www.zillow.com/seattle-wa/home-values/
https://www.zillow.com/home-values/
https://www.zillow.com/research/data/
https://www.attomdata.com/news/market-trends/foreclosures/attom-september-and-q3-2022-u-s-foreclosure-market-report/
https://www.redfin.com/news/data-center/
https://www.bls.gov/eag/eag.wa_seattle_msa.htm
https://www.census.gov/quickfacts/fact/table/seattlecitywashington,US/PST045219
https://www.freddiemac.com/pmms
https://www.apartmentlist.com/research/category/data-rent-estimates
https://www.realtytrac.com/homes/wa/king/seattle/
https://www.sofi.com/learn/content/foreclosure-rates-for-50-states/
*The information contained herein was pulled from third party sites. Although this information was found from sources believed to be reliable, FortuneBuilders Inc. makes no representations, warranties, or guarantees, either express or implied, as to whether the information presented is accurate, reliable, or current. Any reliance on this information is at your own risk. All information presented should be independently verified. FortuneBuilders Inc. assumes no liability for any damages whatsoever, including any direct, indirect, punitive, exemplary, incidental, special, or consequential damages arising out of or in any way connected with your use of the information presented.