The Chattanooga real estate market has suffered the same fate as the national housing sector over the course of the pandemic. Namely, soaring home values have become prohibitively expensive in the wake of supply and demand constraints. For nearly three years, in fact, home prices in the Chattanooga real estate market have increased almost exponentially.
It is worth noting, however, that the latest attempt by the Federal Reserve to combat inflation has introduced a shift in market sentiment. Mortgage rates have more than doubled year-to-date and mortgage applications have declined significantly. Activity is tempering and homeowners are losing their grasp on the market, which begs the question: Is Chattanooga a good real estate investment destination?
Let's take a closer look at the Chattanooga housing market and determine whether or not investors should be excited about local real estate opportunities.
Chattanooga Real Estate Market 2022 Overview
Median Home Value: $288,088

Median List Price: $353,000 (+24.7 % year over year)

1-Year Appreciation Rate: +23.0%

Median Home Value (1-Year Forecast): +4.3%

Inventory: 1,972 (+32.7% month over month)

Closed Sales: 973 (-15.3% month over month)

Pending Sales: 957 (-18.3% month over month)

Days On Market: 23 (+53.3 month over month)

Median Rent (1 & 2 Bedroom Units: $1,149 (+5.5% year over year)

Unemployment Rate: 3.3% (latest estimate by the Bureau Of Labor Statistics)

Population: 182.113 (latest estimate by the U.S. Census Bureau)

Median Household Income: $47,165 (latest estimate by the U.S. Census Bureau)

Total Foreclosures: 49
---
[ Thinking about investing in real estate? Register to attend a FREE online real estate class and learn how to get started investing in real estate. ]
---
Chattanooga Real Estate Market Trends 2022
Chattanooga real estate market trends are starting to shift. As the Fed continues to tighten on the national housing sector by increasing interest rates, activity is beginning to slow. Mortgage rates are simultaneously preventing buyers from buying and sellers from selling. For obvious reasons, buyers are not thrilled with the idea of spending thousands more over the course of a mortgage. Sellers, on the other hand, don't to trade their current mortgages for today's high rates. The standoff has resulted in the following Chattanooga real estate market trends:
Supply Trends: An insufficient level of inventory has burdened the Chattanooga real estate market for years. However, the Fed's decision to tighten the economy has drastically reduced housing activity. With mortgage applications declining, inventory levels are inching higher. While higher than previous months, however, Chattanooga's 1,972 homes for sale are well below a balanced market. Supply trends are heading in the right direction, but still have a long way to go. In the meantime, any drop in mortgage rates should persuade more sellers to list their homes, adding more inventory to current levels. When levels rise, prices should come down a little.

Home Price Trends: Home price trends in the Chattanooga real estate market mirror their national counterparts. If for nothing else, homes everywhere have increased in value because of historic levels of competition. Chattanooga, for example, has seen an influx of buyers. As the city presented buyers with a more affordable living situation than Nashville, Chattanooga saw competition feed higher home values. Prices are expected to rise for the foreseeable future, but at a slower pace than in recent history.

Interest Rate Trends: Inflation remains present in the U.S. economy, and the Fed is expected to continue fighting it with higher rates. The average commitment rate on a 30-year fixed-rate mortgage is already up 3.94 points year-over-year, and there's no reason to believe they won't keep rising. That said, inflation is at least nearing a peak, so rates aren't expected to continue upwards at their current pace.

Investor Trends: Chattanooga real estate investors have favored long-term rental properties in recent history. Higher acquisition costs and lower profit margins on flips have tilted the scales in favor of buy-and-hold assets. With mortgage rates still relatively low, rental properties can increase cash flow each month while helping investors pay off their mortgages.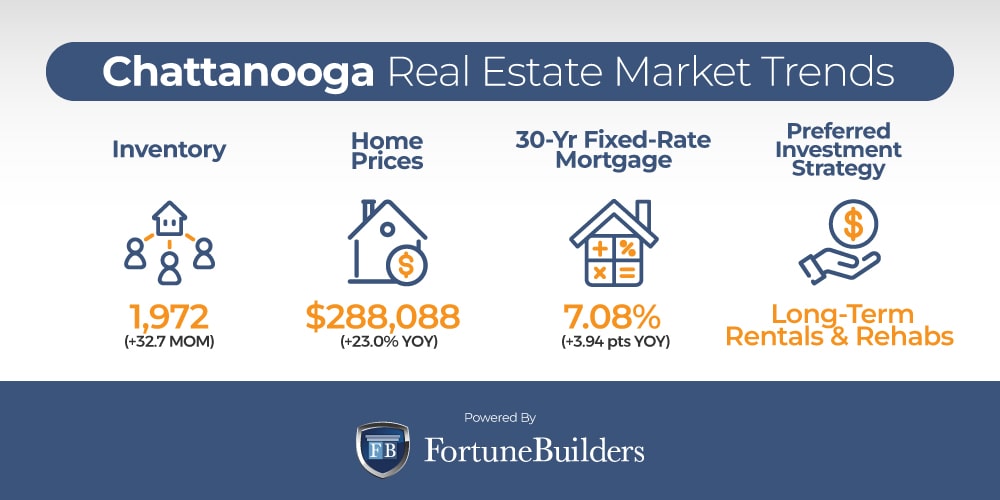 Chattanooga Foreclosures
According to ATTOM Data Solutions' Q3 2022 U.S. Foreclosure Market Report, "there were a total of 92,634 U.S. properties with foreclosure filings — default notices, scheduled auctions or bank repossessions — up 3 percent from the previous quarter and 104 percent from a year ago." Of the foreclosures reported in the third quarter, 67,249 were new filings, up 1.0% from the previous quarter and up 167.0% from a year ago.
"Foreclosure starts, while rising since the end of the government's foreclosure moratorium, still lag behind pre-pandemic levels," said Rick Sharga, executive vice president of market intelligence for ATTOM. "Foreclosure activity is reflecting other aspects of the economy, as unemployment rates continue to be historically low, and mortgage delinquency rates are lower than they were before the COVID-19 outbreak."
Foreclosures are rising, and the entire Tennessee real estate market is no exception. In the third quarter of this year, Tennessee had 1,240 foreclosures, up 35.8% from the previous quarter and 76.9% from the same period one year ago. The increase in foreclosures across the state have resulted in a total of 49 distressed homes in the Chattanooga housing market, the majority of which are set to be sold at auction. With only eight bank-owned foreclosures in Chattanooga, the remaining 41 can be found at auction.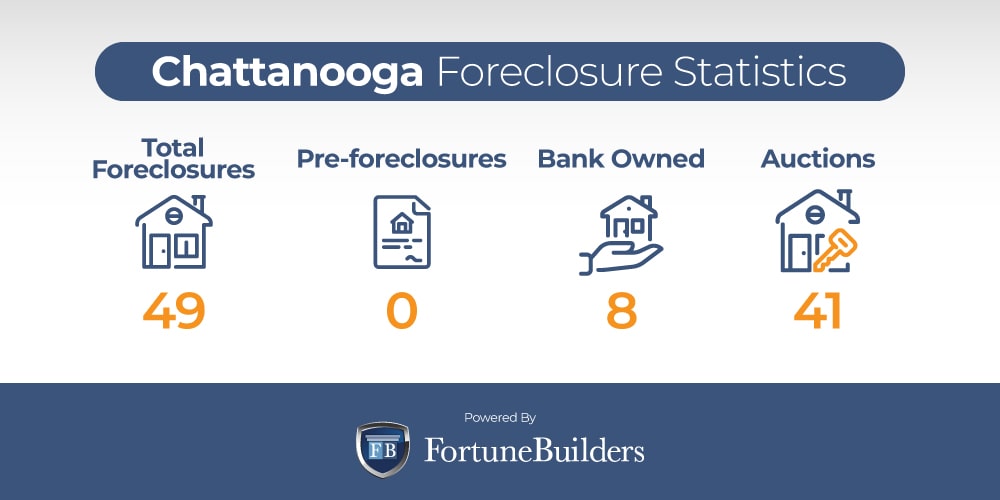 Chattanooga Median Home Prices
The median home price in the Chattanooga real estate market is somewhere in the neighborhood of $288,088. On its way to today's price, the median home value in Chattanooga has increased 23.0% in the last year and 56.9% since the pandemic officially became a global emergency. Under regular contentions, today's home values would most likely have never reached their levels. However, pent-up demand and competition allowed sellers to increase their prices at a blistering pace for years.
Previous price increases were directly correlated to actions taken by the Federal Reserve to spur housing activity during the pandemic. That said, the Fed is now tightening not the economy to combat the resulting inflation. In doing so, mortgage rates have more than doubled year-to-date and activity has declined. Few mortgage applications are reducing competition in just about every market and sellers are losing their power. As a result, it's too soon to say prices will drop in the Chattanooga housing market, but is getting safer to say appreciation will temper.
When all is said and done, the new market environment will continue to increase home values. However, less competition will eventually force homeowners to drop prices to meet demand. Prices appear to be at or near the top of a cycle, and may come down in the next few years.
Chattanooga Real Estate Market Forecast 2022 – 2023
Chattanooga real estate market forecasts are starting to shift for the first time in a few years. Over the last couple of years, real estate in Chattanooga did the same thing as every other metropolitan area: increased value in the wake of historic demand. However, the fed's latest pivot and attempts to combat inflation have changed forecasts and predictions. Things are starting to look different in the Chattanooga real estate market, which begs the question: What do forecasts look like moving forward?
Home Values Will Rise: Home values will continue to rise, just like they have for the better part of a decade. However, the shift away from a seller's market will ultimately temper the pace of appreciation. While double digit increases in year-over-year home values were common place over the last few years, the Chattanooga housing market is only expected to see its median home value increase 4.3% over the next 12 months.

Rents Will Rise: With approximately 1,972 listings, Chattanooga doesn't have enough inventory to keep up with buyers. As a result, more people will be forced to rent, driving up the demand for rental units. The added competition is expected to increase rents in 2022 and well into 2023.

Interest Rates Will Rise: The latest consumer price index report showed record inflation numbers. In order to combat inflation and weaken the dollar, the Fed is expected to increase interest rates even further. While the number of points interest rates will increase is still up for debate, it's only a matter of time until the move is made. As a result, the cost of owning a home in the Chattanooga housing market will increase accordingly.
Summary
The Chattanooga real estate market hasn't been immune to the Fed's latest attempts to combat inflation. As a result, Chattanooga has seen activity decline. However, the drop in mortgage applications should turn the housing cycle more in favor of buyers. Investors, in particular, may start finding more opportunities in the local real estate sector.
---

Interested in learning more about today's most lucrative real estate strategies?

Whether you're brand new to investing, have closed a few deals, or are a seasoned investor— our new online real estate class reveals the best real estate strategies to get started with real estate investing in today's market. Expert investor Than Merrill explains how these time-tested strategies can help you to profit from the current opportunities in real estate.

Register for our FREE Real Estate Webinar and get started learning how to start a successful investment business today!
Sources
https://www.zillow.com/home-values/37837/chattanooga-tn/
https://www.zillow.com/home-values/6118/nashville-tn/
https://www.zillow.com/research/data/
https://www.freddiemac.com/pmms
https://www.bls.gov/eag/eag.tn_chattanooga_msa.htm
https://www.gcar.net/consumer-tools/market-statistics
https://www.census.gov/quickfacts/chattanoogacitytennessee
https://www.apartmentlist.com/research/category/data-rent-estimates
https://www.gcar.net/images/uploads/subpage/September_2022_Infograph.png
https://www.attomdata.com/news/market-trends/foreclosures/attom-september-and-q3-2022-u-s-foreclosure-market-report/
https://www.realtytrac.com/homes/tn/hamilton/chattanooga/
*The information contained herein was pulled from third party sites. Although this information was found from sources believed to be reliable, FortuneBuilders Inc. makes no representations, warranties, or guarantees, either expressed or implied, as to whether the information presented is accurate, reliable, or current. Any reliance on this information is at your own risk. All information presented should be independently verified. FortuneBuilders Inc. assumes no liability for any damages whatsoever, including any direct, indirect, punitive, exemplary, incidental, special, or consequential damages arising out of or in any way connected with your use of the information presented.