The Daytona Beach real estate market is highlighted by an incredibly high foreclosure rate. Few major metropolitan areas across the country have exhibited a higher distribution of foreclosures than Daytona Beach. The poster child of the entire Florida real estate market, real estate in Daytona Beach is a big reason Florida currently boasts one of the highest foreclosure rates in the country. That said, the volume of distressed homes is now aiding local investors at a time when appreciation has drastically eaten into profit margins. In addition to the Fed's decision to increase interest rates, distressed homes are starting to remove some of the power from sellers and helping today's buyers—albeit slightly.
Power is shifting in the Daytona Beach real estate market, which begs the question: Is Daytona Beach a good place to invest in real estate? Let's take a deeper dive to find out what investors can expect from the Daytona Beach housing market.
Daytona Beach Real Estate Market 2022 Overview
Median Home Value: $270,201

Median List Price: $300,000

1-Year Appreciation Rate: 27.2%

Inventory Of Homes: Balanced (Slightly In Favor Of Sellers)

New Listings: 41

Active Listings: 929

Homes Sold: 176

Median Days On Market: 37

Median Rent (1 & 2 Bedroom Units): $1,525

Price-To-Rent Ratio: 14.76

Unemployment Rate: 3.0% (latest estimate by the Bureau Of Labor Statistics)

Population: 74,437 (latest estimate by the U.S. Census Bureau)

Median Household Income: $38,686 (latest estimate by the U.S. Census Bureau)

Total Active Foreclosures: 88
---
[ Thinking about investing in real estate? Register to attend a FREE online real estate class and learn how to get started investing in real estate. ]
---
Daytona Beach Housing Market Trends 2022
The Daytona Beach real estate market has followed the path of the national housing market. Most notably, price changes have been directly correlated to the imbalance of supply and demand for the better part of a decade. However, the Fed has introduced higher rates in the latter part of 2022, completely altering the real estate landscape. As a result, today's Daytona Beach housing market trends are the direct result of a shift in market sentiment. The change in dynamics has culminated in the following trends:
Supply Trends: The Daytona Beach real estate market is relatively balanced, with the market leaning slightly in favor of sellers. In other words, inventory levels are still tight, but the latest increase in mortgage rates is serving its purpose: cooling the market off. With rates more than doubling year-to-date, fewer mortgage applications are being processed and demand isn't taking as many homes off the market as in the past. As the Fed continues to tighten, inventory levels are expected to increase.

Home Price Trends: Much like the rest of the country, the Daytona Beach real estate market has seen its home values appreciate at a historic pace. For ten consecutive years, home values have marched higher. Lately, price increases result from too many buyers competing over too few listings. Multiple offers on homes enabled sellers to increase their asking prices, and the pandemic accelerated the rate at which they were able to do so. Now that the market is cooling off a little, less demand will temper price increases, but expect home values to increase modestly, relative to the last few years.

Interest Rate Trends: The Fed has increased interest rates to cool down the entire economy and save it from inflation. In doing so, mortgage rates have more than doubled year-to-date, now around 6.6%. The Fed has another meeting in November and is expected to raise rates again, pushing mortgages even higher in the near future. Higher rates should continue to slow activity in the Daytona Beach housing market.

Investor Trends: The Daytona Beach real estate market has a relatively high distribution of distressed homes, which spells great news for investors. With home prices as high as they are, distressed homes offer a great opportunity to rehab and flip. That said, local investors have also sought refuge in long-term rental properties. Despite increasing year-to-date, interest rates can still help investors offset higher acquisition costs and increase monthly cash flow.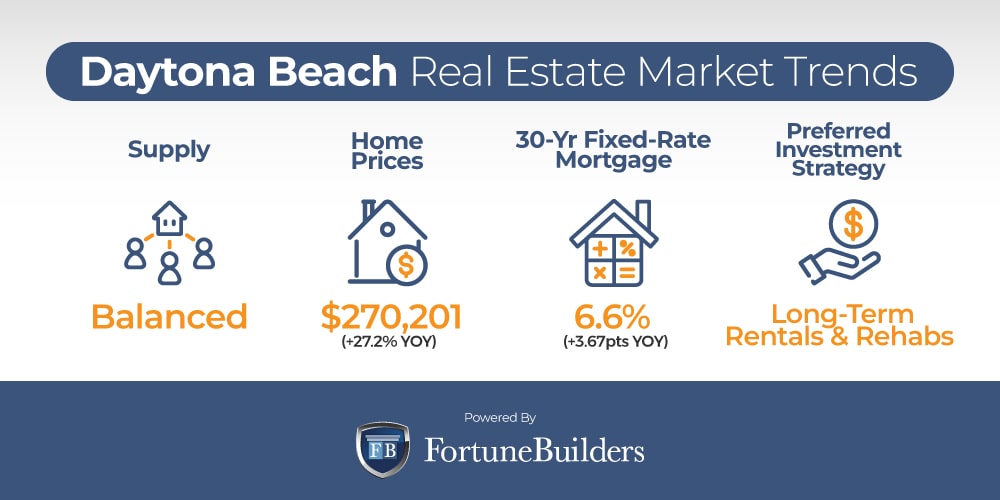 Daytona Beach Foreclosure Statistics 2022
According to ATTOM Data Solutions, a leading curator of real estate data nationwide for land and property data, there were a total of 34,501 U.S. properties that entered into the foreclosure process in August; that's up 14% month-over-month and 118% year-over-year.
"Two years after the onset of the COVID-19 pandemic, and after massive government intervention and mortgage industry efforts to prevent defaults, foreclosure starts have almost returned to 2019 levels," said Rick Sharga, executive vice president of market intelligence at ATTOM. "August foreclosure starts were at 86 percent of the number of foreclosure starts in August 2019, but it's important to remember that even then, foreclosure activity was relatively low compared to historical averages."
Foreclosures are on the rise across the country, and the Florida real estate market is no exception. According to ATTOM Data Solutions, Florida had the fifth highest foreclosure rate as recently as August. With one in every 2,950 homes in distress, Florida trails only four other states: Illinois, Delaware, South Carolina, and New Jersey.
As it turns out, the Daytona Beach real estate market has made its own contributions to the state's foreclosure rate. Of the city's total inventory, 88 housing units are in one state or another of the foreclosure process: pre-foreclosure, bank owned and auction. The overwhelming majority of Daytona Beach's foreclosures are pre-foreclosures, making up about 81.9% of the city's distressed inventory. The remaining foreclosures are all expected to be sold at auction sometime in the near future. At the moment, there doesn't appear to be any bank-owned homes for investors to look into.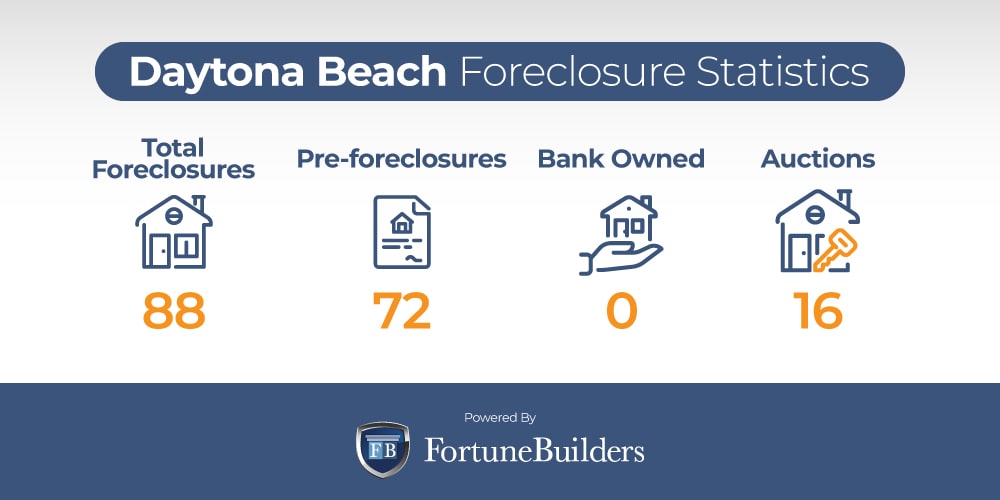 Daytona Beach Median Home Prices
The Daytona Beach real estate market boasts a median home value of $270,201, which represents more than a decade's worth of appreciation. Dating back to 2012, in fact, the median home price in Dayton Beach bottomed out around $101,750 during the Great Recession. Since then, the median home value has increased about 165%.
For the better part of the decade prices increased thanks to improving economic conditions following the last housing bubble. However, the greatest rates of appreciation have taken place in the wake of the pandemic. The median home price in Daytona Beach has increased 57.8% since COVID-19 was officially declared a global emergency. In the last year alone, home values have jumped 27.2% on the heels of historic demand and a distinct lack of inventory.
Daytona Beach real estate trends suggest home values will continue driving upwards for the foreseeable future; there's still plenty of competition fighting over the little inventory that is currently available. However, additional increases to interest rates will slow mortgage applications even more, and perhaps even strip sellers of their stranglehold over the market. If sellers continue to lose more control, appreciation rates will fall, and maybe even force sellers to lower their asking prices.
Should You Invest In The Daytona Beach Housing Market?
The Daytona Beach real estate investing community is experiencing the same thing as every other city across the United States: Home prices are soaring on lacking inventory levels and increasing demand. While many feared the pandemic would ruin the local housing sector, it actually served as a catalyst for investors. Real estate investors in Daytona Beach simply reevaluated their exit strategies based on the new market landscape.
To be clear, Daytona Beach's foreclosure rate makes it possible for many investors to continue flipping homes. Whereas attractive profit margins are harder to find in other cities, Daytona Beach has more distressed inventory than the average market. As a result, investors may have an easier time finding distressed homes to flip for profits in Daytona than many of its counterparts. That said, the last decade has seen homes in Daytona Beach more than double in value. While better than other cities, profit margins are growing slimmer, which is why many investors have turned to long-term strategies.
In addition to home prices reaching new highs each month, borrowing costs remain attractive—albeit less attractive with each passing month. According to Freddie Mac, the average commitment rate on a 30-year fixed-rate mortgage is about 6.6%. Rates have practically doubled year-over-year, but are still relatively attractive to borrowers. The Daytona Beach real estate investing community could not only offset higher acquisition costs but could also increase cash flow from rental properties placed in operation.
Real estate investors in Daytona Beach are lucky to have several viable exit strategies at their disposal. Unfortunately, most cities have appreciated so much that flipping and rehabbing are growing harder. However, the Daytona Beach real estate market boasts a unique combination of affordable housing and distressed inventory. As a result, flipping is still a great option, but today's indicators lean heavily in favor of long-term strategies.
Summary:
The Daytona Beach real estate market has had a particularly rough time dealing with the pandemic. Even before COVID-19 was officially declared a global disaster, the local housing market was hit hard by foreclosures. Not surprisingly, the Coronavirus made things worse. As a result, however, investors have found new ways to capitalize on today's trends. Specifically, local investors have turned towards rental properties and will continue to do so as long as borrowing costs remain as attractive as they are.
---

Interested in learning more about today's most lucrative real estate strategies?

Whether you're brand new to investing, have closed a few deals, or are a seasoned investor— our new online real estate class reveals the best real estate strategies to get started with real estate investing in today's market. Expert investor Than Merrill explains how these time-tested strategies can help you to profit from the current opportunities in real estate.

Register for our FREE Real Estate Webinar and get started learning how to start a successful investment business today!
Sources
https://www.zillow.com/home-values/17718/daytona-beach-fl/
https://www.freddiemac.com/pmms
https://www.bls.gov/eag/eag.fl_deltona_msa.htm
https://www.census.gov/quickfacts/daytonabeachcityflorida
https://www.sofi.com/learn/content/foreclosure-rates-for-50-states/
https://www.apartmentlist.com/research/category/data-rent-estimates
https://www.realtor.com/realestateandhomes-search/Daytona-Beach_FL/overview
https://www.rockethomes.com/real-estate-trends/fl/daytona-beach
https://www.redfin.com/city/4302/FL/Daytona-Beach/housing-market
https://www.attomdata.com/news/market-trends/foreclosures/
https://www.realtytrac.com/homes/fl/volusia/daytona-beach/
*The information contained herein was pulled from third party sites. Although this information was found from sources believed to be reliable, FortuneBuilders Inc. makes no representations, warranties, or guarantees, either expressed or implied, as to whether the information presented is accurate, reliable, or current. Any reliance on this information is at your own risk. All information presented should be independently verified. FortuneBuilders Inc. assumes no liability for any damages whatsoever, including any direct, indirect, punitive, exemplary, incidental, special, or consequential damages arising out of or in any way connected with your use of the information presented.