In these times, double down — on your skills, on your knowledge, on you. Join us Aug. 8-10 at Inman Connect Las Vegas to lean into the shift and learn from the best. Get your ticket now for the best price.
The odds that the U.S. will manage to avoid a recession and achieve a "soft landing" as the economy decelerates are improving, but the Federal Reserve is likely to pursue a "higher-for-longer" rate strategy that will keep mortgage rates elevated and put a damper on home sales, forecasters at mortgage giant Fannie Mae predict.
"With an ongoing tight supply of existing homes for sale on the market, we expect overall home sales in 2023 to remain near the lowest annual level since 2009," Fannie Mae economists said Wednesday in commentary accompanying their latest forecast. "This lack of supply is driving a resurgence of home price growth and supporting increases in new home construction."
The lack of inventory — driven in part by the "lock-in effect" (a reluctance on the part of existing homeowners to give up the low rates on their mortgage) — has persisted for longer than Fannie Mae economists had expected and helped keep home prices elevated in many markets.
In April, Fannie Mae forecasters were expecting that by the final quarter of 2023, national home prices would be declining at a 1.2 percent annual rate and falling by 2.2 percent by Q4 2024. Now, they don't see annual home price appreciation dipping into negative territory until the second half of 2024.
National home prices not expected to fall this year
Source: Fannie Mae Housing Forecast, July 2023
Fannie Mae's home price appreciation forecast, which is updated quarterly, envisions 3.9 percent annual home price appreciation during the fourth quarter of 2023, with a gradual decline to zero percent by Q2 2024. The latest forecast doesn't envision a significant decline in national home prices until the final three months of 2024 when prices are expected to post a 0.7 percent annual decline.
"A consequence of this strong home price growth is that affordability again worsened," Fannie Mae economists said. "We still anticipate a slowing of home price growth going forward as economic activity slows, more new constructed units hit the market, and affordability challenges weigh on demand; however, improvements in affordability now appear further off than they did at the start of the year."
Strength in home prices 'highly supportive' of construction
Source: Fannie Mae Housing Forecast, July 2023
The resurgence in home price appreciation "has been highly supportive of new construction," Fannie Mae economists said, noting that single-family housing starts surged 18.5 percent in May to an annual pace of 997,000 units, "the highest level in a year and well above expectations."
Fannie Mae now expects builders to start construction on 896,000 single-family homes this year, up from June's forecast of 824,000 2023 housing starts. Some of that increase represents demand being pushed forward, with Fannie Mae forecasters now predicting single-housing starts will decline slightly next year to 890,000 units.
But if the U.S. manages to avoid a recession, builders have the capacity to boost production to an annual pace of 1 million single-family homes "for a sustained period" if demand warrants, Fannie Mae economists said.
Tight inventories crimping sales of existing homes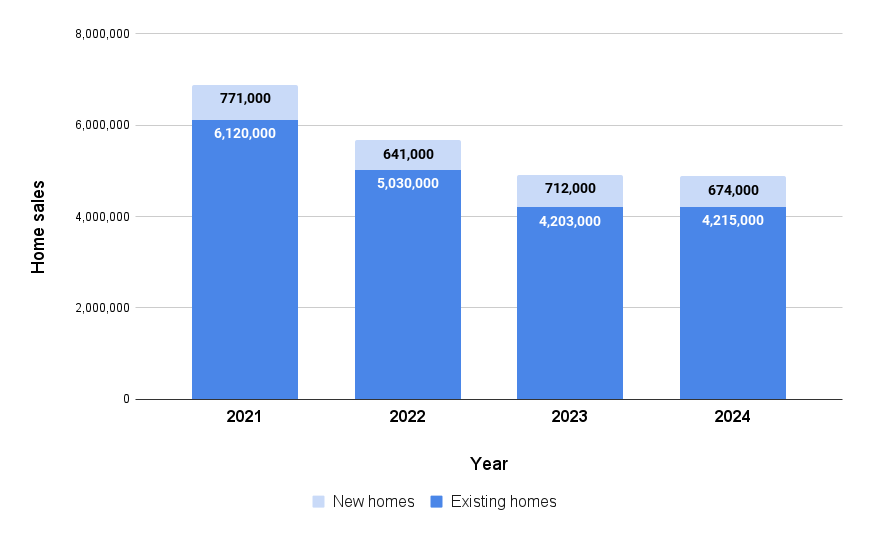 Source: Fannie Mae Housing Forecast, July 2023
The scarce supply of existing homes on the market is also driving new-home sales, which were up 12.2 percent in May. With lumber prices and other construction costs down from a year ago, builders "have ample margin to offer incentives" to drive sales, including interest rate buydowns, Fannie Mae forecasters said.
Fannie Mae economists expect new-home sales to grow by 11 percent this year to 712,000 before declining by 13 percent next year.
With many would-be homebuyers still stymied by inventory shortages and elevated mortgage rates, sales of existing homes are forecast to decline by 16 percent this year to 4.2 million and stay at roughly the same level next year.
This year's "subdued rate of sales" of existing homes has not been driven by a lack of purchase demand "but rather an historically tight inventory of homes for sale," Fannie Mae economists said.
"We began discussing our expectations of a supply shortage in late 2014, and it remains front and center in the housing market in 2023," Fannie Mae Chief Economist Doug Duncan said in a statement. "The supply of existing homes is near the 2009 crisis low, and it's showing no signs of easing. This puts the onus on homebuilders and can be seen in the construction data."
Gentler decline foreseen for mortgage rates
Source: Fannie Mae Housing Forecast, July 2023
Recent inflation data has provided reason for optimism that the Federal Reserve "is probably close to finished" raising rates, Duncan said. But Fannie Mae economists think it will take some time for the rate hikes the Fed began implementing last year to have their full effect, and policymakers may well interpret incoming labor market data as still too hot.
"The decline in headline inflation is encouraging, but year-over-year measures will work against further progress in the second half of 2023," Duncan said. "Thus, we expect the Federal Reserve will stick to 'higher-for-longer' policy after one or two more quarter-point increases, until they conclude that the core inflation rate is sustainably at their 2-percent target. Putting aside any temporary volatility, we expect mortgage rates to stay higher as well."
Futures markets have priced in an almost 100 percent chance that Fed policymakers will hike the short-term federal funds rate by 25 basis points on July 26, according to the CME Fed Watch tool, which tracks bets made by interest rate traders. But by this time next year, futures market traders expect that the Fed will have reversed course and dialed back rates by as much as a full percentage point.
Last month, Fannie Mae forecasters envisioned rates on 30-year fixed-rate mortgages would dip below 6 percent by the second quarter of next year. Now, thanks to the unexpected strength in the economy, they don't see that happening until the final three months of next year.
(In a June 20 forecast that will soon be updated, economists at the Mortgage Bankers Association said they anticipated sub-six percent mortgage rates by the final three months of this year).
The Bureau of Economic Analysis recently revised its estimate of first-quarter GDP (gross domestic product) annualized growth from 1.1 percent to "a healthy 2.0 percent," Fannie Mae economists said.
While the economy was stronger than previously thought during the first half of the year, Fannie Mae economists expect growth to decelerate. Although the probability of a "soft landing" may have increased, Fannie Mae economists continue to expect a "modest recession" beginning in the fourth quarter of 2023 or the first quarter of 2024 as the impact of past Fed rate hikes ripples through the system.
"In our view, the full effects of tightening monetary policy on economic activity are still to be felt," Fannie Mae economists warned. "Monetary policy works with notoriously long and variable lags (a rule of thumb is it takes 12-18 months for effects to be fully realized), and the policy rate has not been in an obviously restrictive territory for long."
Bank lending only started slowing in the spring, and other measures like consumer credit delinquency rates and business bankruptcy filings are now turning upward, Fannie Mae economists noted.
Consumers have been feeding their appetite for purchases by drawing down coronavirus pandemic-related savings and taking on additional debt, making the current pace of consumer spending "unsustainable," in the eyes of Fannie Mae economists. The scheduled resumption of student loan payments this fall "presents an additional headwind" for consumer spending, they warned.
But regardless of whether there is a soft landing or a mild recession (as Fannie Mae economists predict) "the supply issues in housing will provide a downside cushion for economic activity," Duncan said.
Get Inman's Mortgage Brief Newsletter delivered right to your inbox. A weekly roundup of all the biggest news in the world of mortgages and closings delivered every Wednesday. Click here to subscribe.
Email Matt Carter