If you're starting a business, you may want to consider opening a separate bank account. It's best practice to separate your business finances from your personal finances. Not only will it be easier to track your day-to-day business income and expenses, but your life will also be much easier come tax time.
Setting up a business bank account is relatively easy. All you need is a few key pieces of information, and you can set up your account online in a few minutes. Here's your 5-step guide on how to open a business bank account.
Why Open A Business Bank Account?
Opening a business bank account has a number of benefits.
By tracking your business income and expenses separately, you'll have a much easier time accounting and bookkeeping. It can be tough to identify your business expenses when filing your taxes at year-end if they're commingled with your personal finances. Because of this, you could miss out on some deductions that could decrease your taxable business income.
Second, many business accounts allow you to give access to a second person, such as your accountant. While you wouldn't want to show your personal finances to a tax professional, you'll feel more comfortable sharing access if it's strictly business.
Last but not least, starting a business account will help you build your business financial profile.
---
[ Thinking about investing in real estate? Register to attend a FREE online real estate class and learn how to get started investing in real estate. ]
---
What Do You Need To Open A Business Bank Account?
You can usually open a business bank account online in just a few minutes. The information and documents you'll need to provide will depend on the bank, your business type, and the type of account you're opening.
Here are some examples of what you typically need to open a business bank account:
1. Personal Identification
Similar to opening any type of financial account, you'll need to provide identifying information and documents. Typically, you'll need to provide a government-issued form of identification, such as your driver's license or passport.
You'll also need to provide your full legal name, address, and contact information.
2. Employer Identification Number
If your business has an employer identification number (EIN), you'll need to provide it when opening your business bank account. If you're a sole proprietor or single-member LLC and don't have an EIN, you can typically use your Social Security number instead.
3. Details Of Your Business
Next, you'll need to provide the details of your business. This includes your business name and address, as well as your trade name or DBA ("doing business as") name if you have one. They will also ask you for your business entity type as well as your industry.
4. Organizing Documents & Agreements
Some banks may require that you submit further proof of your business entity. Some examples of documents include a business license, registration certificate, articles of organization, or operating agreement. Other banks may not require this type of proof.
5. Opening Deposit
Last but not least, an opening deposit may be required to open your account. Many banks will allow you to open an account with a $0 balance, while others will have a minimum ranging from $5 to $500.
What Are The Types Of Business Bank Accounts?
There are three types of business bank accounts that you can open:
Checking account: A business checking account works similarly to your personal checking. The account will allow you to accept deposits and make payments. The bank may or may not provide paper checks.

Merchant account: Connected to your checking account, a merchant account allows you to accept credit and debit card payments from customers and clients.

Savings account: You may also want to consider opening a savings account for your business. This type of account pays interest on the balance and allows you to set aside funds for taxes or business-specific savings goals.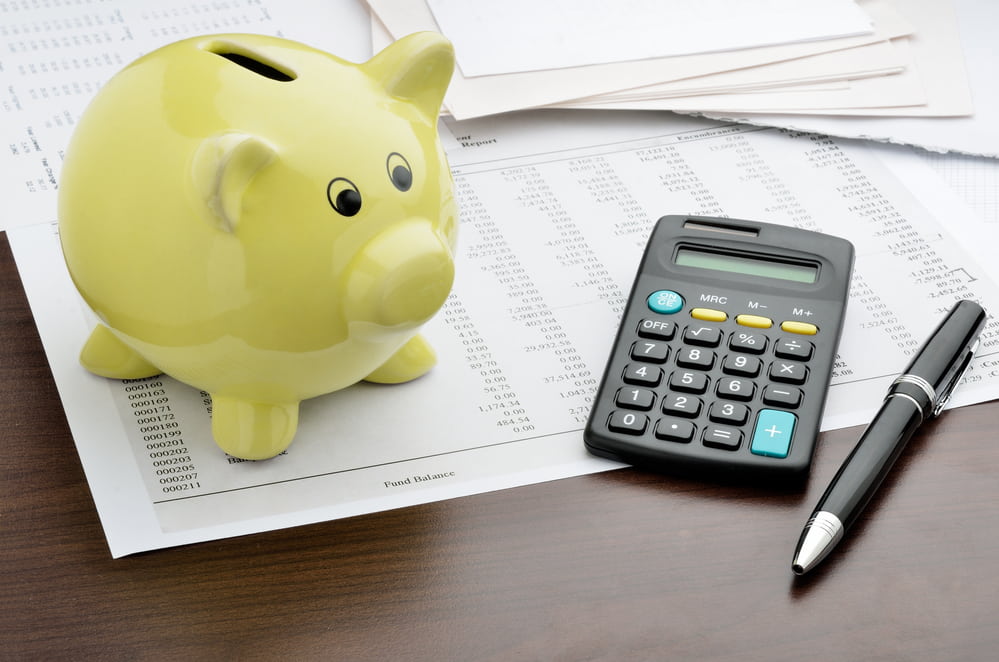 What Business Bank Account Should You Open?
After deciding to open a business bank account, you'll quickly discover that there is no shortage of banks and financial platforms vying for your business.
To pick an account provider, compare these offerings:
Monthly fees: Make note of any applicable banking fees. Some banks will waive their monthly fee if you maintain a minimum balance, while others don't charge any fees. If you plan to open a merchant account, compare the merchant services fees.

Tools: Although it's not always necessary, the availability of helpful online tools can be a plus. Services offered might include cash flow tools, invoicing options, and integration with popular accounting platforms.

Rewards: Many bank accounts and credit cards offer rewards and point programs based on your use. Purchases could translate to travel points or cash back.

Access and Support: What type of branch or ATM access are you looking for? How easy or convenient will it be to speak with a support specialist? Make sure that the bank and product you select provide you with the accessibility and support you require.
Summary
This guide provided an overview of how to open a business bank account in 5 easy steps. It might be a pleasant surprise to find out that there is a relatively small learning curve. Business accounts operate very similarly to personal bank accounts. You can accept deposits, make payments, and use a debit card for your business just as you would for your personal finances. Opening a business bank account benefits business owners because it allows you to separate your business transactions from your personal finances. Tracking expenses and deductions and filing taxes will become a much easier task.
---

Interested in learning more about today's most lucrative real estate strategies?

Whether you're brand new to investing, have closed a few deals, or are a seasoned investor— our new online real estate class reveals the best real estate strategies to get started with real estate investing in today's market. Expert investor Than Merrill explains how these time-tested strategies can help you to profit from the current opportunities in real estate.

Register for our FREE Real Estate Webinar and get started learning how to start a successful investment business today!