With spring upon us, now is a great time for home flippers to focus on outdoor projects that may have been neglected over the winter months.
Outdoor projects can be a great way to generate a high ROI on a flip because they tend to boost a property's curb appeal, creating a strong first impression among potential buyers. After all, if the outside of a house doesn't look nice, potential buyers may judge the property before they've even seen all the hard work you've done inside!
However, some projects offer more ROI than others. As a flipper, you want to avoid investing in projects that offer little return and instead focus on those that will yield the highest return.
To help you decide on the most worthwhile renovations, here are ten ways to improve the outside of your investment property and attract more interest to it:
---
Table of Contents
Give the House a Fresh Facade
Invest in New Windows
Replace or Paint the Front Door
Install or Update Other Lighting
Upgrade the Landscaping
Install a New Mailbox
Revamp the Driveway
Replace the Garage Door
Add a Backyard Structure
Build an Outdoor Kitchen
How PropStream Can Help with Your Flip
---
1. Give the House a Fresh Facade
To freshen up the outside, you may try giving your property's exterior a new look.
For example, you can give the outside walls a fresh coat of paint, or you can update or paint the trim. When flipping a property, it's often best to stick to neutral colors, however, since bold ones might exclude some potential buyers.
Other ways you can give your property a facelift are to replace the siding (88.5% to 94.7% return), add a stone veneer (102.3% return), and replace worn handles, knobs, locks, and house numbers.
Want to really stand out amongst the competition? Consider adding a smart lock system for extra security!
If you're working with a smaller budget, power washing your property's exterior to remove dirt and mud and deep cleaning the windows can make a huge difference as well.
2. Invest in New Windows
Not only do new windows add an aesthetic appeal to the exterior of a home, but they are often more energy efficient. Because of this, newer windows appeal to homeowners looking to lock in the heat in colder months and AC in the warmer months.
According to the 2023 Remodeling Cost vs. Value Report, the average vinyl window replacement project costs $20,091 and yields a 68.5% return, and the average wood window replacement project costs $20,091 and yields a 61.2% return.
For some extra charm, consider adding some new window shutters as well.
3. Replace or Paint the Front Door
The front door is a focal point on the property. It's where potential buyers' eyes will naturally gravitate toward. To help make it stand out, consider painting the front door a different color from the rest of the house. Just make sure to choose a complementary color.
Alternatively, you might consider replacing the front door altogether. For example, you could upgrade the front door to one with nice window panels, casing, or new hardware. The goal is to have the front door make a statement (but again, you don't want to be too bold and risk alienating some potential buyers).
To give you an idea of the ROI, steel entry door replacements cost an average of $2,214 and yield an average return of 100.9%, which means they might pay for themselves.
4. Install or Update Outdoor Lighting
Installing or updating the existing outdoor lighting for your property can help it stand out at night, give it a magical or calming ambiance, and even deter home intruders—all of which can increase the perceived value of the property to potential buyers.
Not sure where to start? Start by replacing any outdated light fixtures with new ones. Install modern lighting arrangements, perhaps with dimmer switches and smart controls. Additionally, LED light bulbs boost the home's energy efficiency, which is another appealing feature for potential buyers. However, you may want to avoid mixing color temperatures (e.g., cold and warm) to maintain a consistent look.
5. Upgrade the Landscaping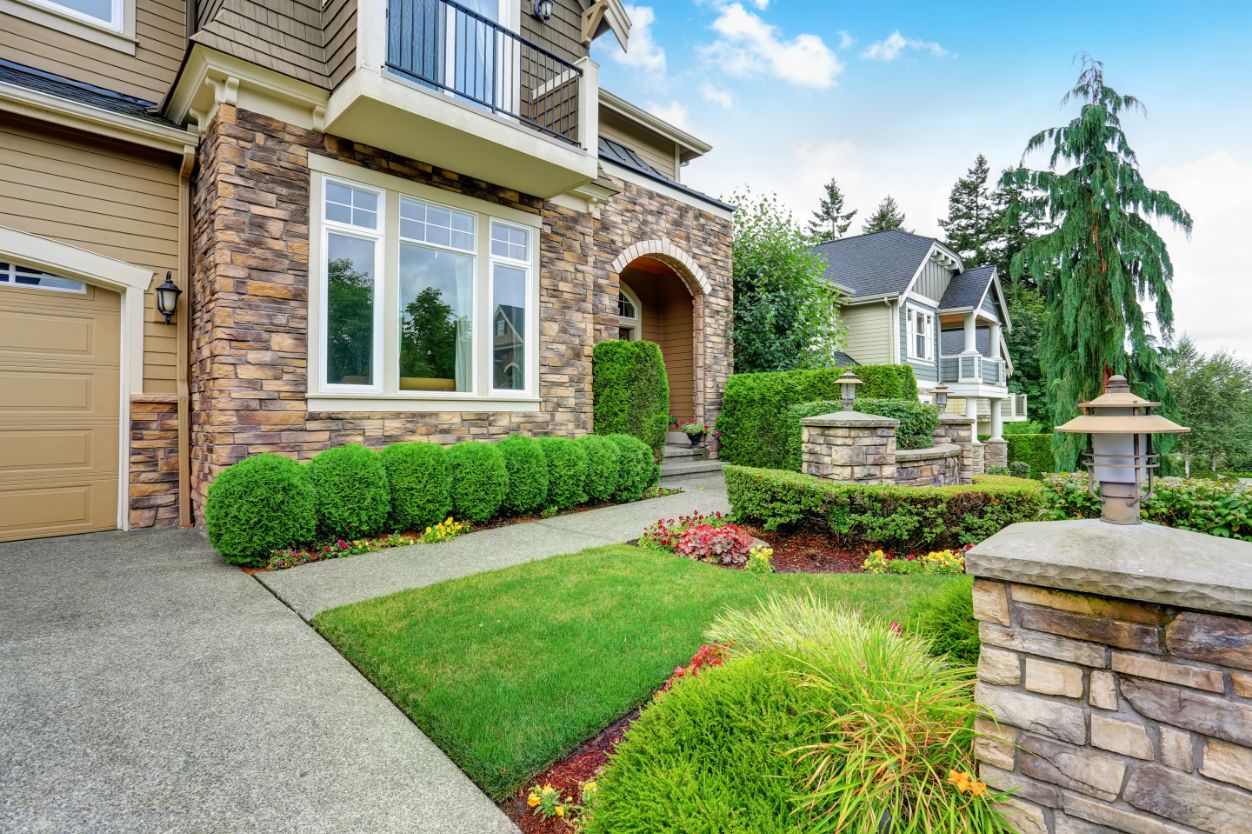 Another way to add value to your investment property is by upgrading the landscaping. According to Angi, this could give you an ROI of around 100% or more.
Start by caring for any (front or back) lawns by keeping them mowed and well-watered. You might install a sprinkler system to automate the watering if you're not going to be at the property every day. Fertilizers can provide extra nutrients the grass needs to stay healthy and green for every showing as well.
Additionally, if the property has any bushes or trees, consider trimming and pruning them. Overgrown or unkempt vegetation can be a turnoff to potential buyers.
To add more life to the property and a pop of color, new plants and flowers are an excellent addition. Flower pots can add a homey, welcoming vibe, and hanging plants placed at different heights can add texture. To help fill up dull and empty space around the plants, consider adding fresh mulch.
Lastly, be sure to edge the front walkway, rake any leaves and debris, and pick up any trash on or around the property, including the nearby sidewalk and street. All of this can help raise the property's curb appeal.
6. Install a New Mailbox
For a fun, easy, and low-cost outdoor project, consider installing a new mailbox, especially if the current one looks old or is less functional. All you need is a new mailbox kit that you can get at your local home improvement store. Some sell for less than $100, making it easy to earn a positive ROI.
In some cases, you may want to also paint the new mailbox a color that matches the house. Feel free to get creative, but keep the mailbox relatively generic. A personalized one may be a little too "loud" for the average buyer.
7. Revamp the Driveway
The driveway is an important yet often overlooked part of a property's exterior. Not only does an old, beaten-down driveway distract from the rest of the exterior, but too many cracks or holes can pose a safety hazard.
By showing it some extra love, you may easily raise the value of your investment property. While it will depend on where you live and the type of materials you use, a new driveway typically adds around 5-10% to the value of a property.
However, completely replacing a driveway can be pricey (around $4,500 on average). So, depending on the driveway's current condition, you may be able to get away with repairing or sealing any cracks or holes to freshen up the appearance and functionality.
If the driveway is made of gravel (and you don't want to pave it), consider adding a fresh layer. Another option is to lay bricks, using the brick formation and colors to make a nice design.
If nothing else, be sure to pull any weeds and grass sprouting up through the driveway cracks, as these can be a turnoff to potential buyers. Then sweep or blow down the driveway and give it a power wash with a hose to help make it look like new.
8. Replace the Garage Door
Another outdoor project that can help maximize the ROI on your flip is replacing the garage door.
A new garage door may not seem like a major selling point, but according to the 2023 Remodeling Cost vs. Value Report, the average garage door replacement yields an average ROI of 102.7%, which means that for every $1 spent on the project, the property value increases by an estimated $1.
Before embarking on the project, however, make sure to measure your garage door dimensions accurately, choose a high-quality replacement door material, and hire a professional installer (unless you are one, of course). Though installing a new garage door may seem like a straightforward task, it's actually a relatively complex and delicate job that requires the right know-how.
For extra value, install an automatic garage door opener that comes with a remote control. That way, the next homeowner can open their garage without getting out of the car when they return to the property.
9. Add a Backyard Structure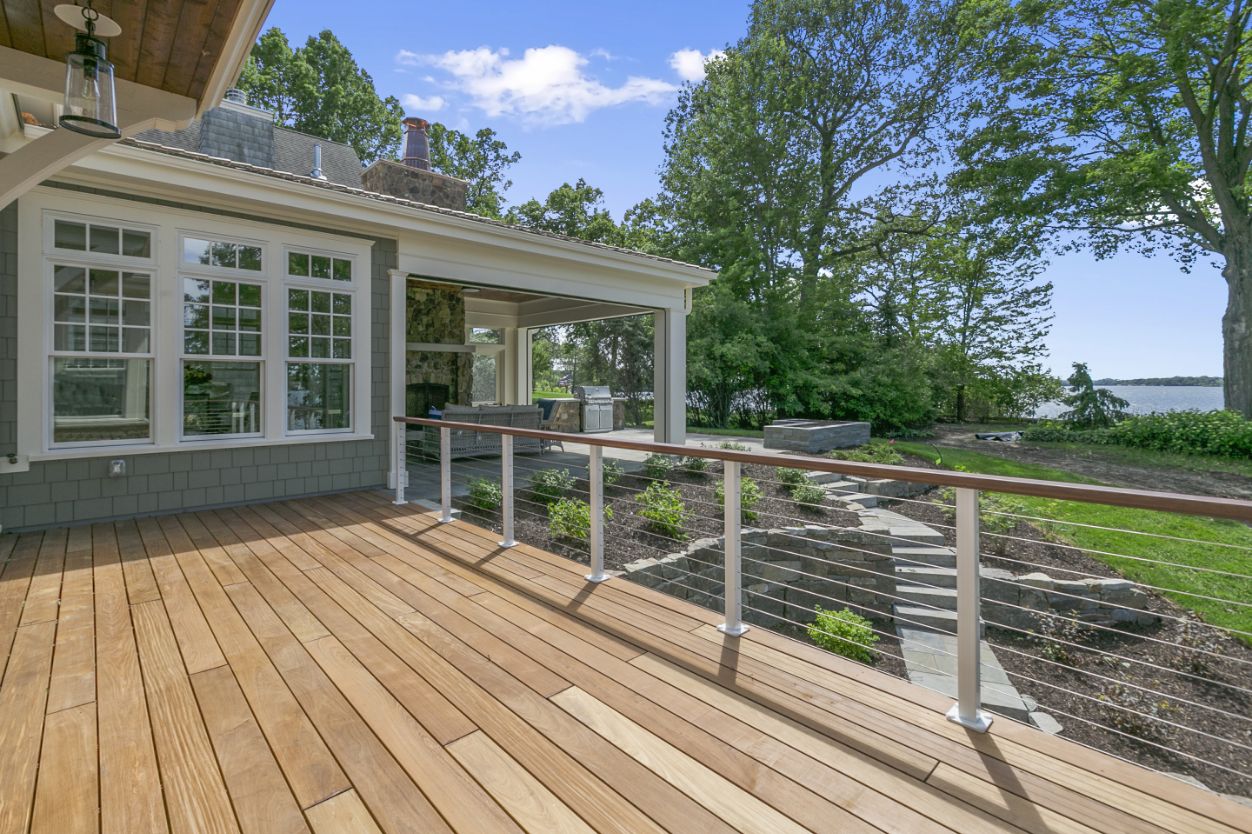 When it comes to the backyard, there are many additions you can make to add value to the property. Here are just a few examples:
Porch, deck, or patio
Pergola, arbor, or awning
Trellis
Fire pit
Pond, fountain, or another water feature
Each of these backyard structures can improve your property's visual appeal, add to the functionality of the outdoor living space, or both. They can be especially nice additions for homes located in warmer climates, helping turn the backyard space into a little oasis.
To give you an idea of what kind of ROI you can expect on backyard structures, a wood deck addition yields an average return of 50.2%, according to the 2023 Remodeling Cost vs. Value Report.
10. Build an Outdoor Kitchen
Outdoor kitchens are becoming increasingly popular for boosting the appeal of a home's outdoor space.
According to one study, they were the most sought-after kitchen trend of 2022. Furthermore, the global outdoor kitchen market was valued at $19.64 billion in 2021, and it's expected to grow at a compound annual growth rate (CAGR) of 8.3% from 2022 to 2030. As a result, building an outdoor kitchen could turn out to be a great investment.
What exactly is an outdoor kitchen? What it sounds like: an outdoor space designed for cooking and entertaining. It usually includes a grill, fridge, sink, and counter space, as well as a table and seating area. Bon appétit!
How PropStream Can Help With Your Flip
To calculate the ROI on your next outdoor project, consider using PropStream's Rehab Calculator.
With the Rehab Calculator, you can estimate the cost of each project, get a total, and compare that to the estimated resale price to ensure profit potential for the flip.
On the hunt for your next investment property? PropStream can help you find off-market properties with homeowners who need to sell urgently, ideal for targeting distressed properties that could use a facelift. Try out our 7-day free trial and get 50 property leads on us!
Note on sources: Any data without a source reference was taken from the 2023 Remodeling Cost vs. Value Report